It's that time, writers — we've come to the last installment of our Make 2015 Your Year to Write series. I hope you've found it both practical and inspiring.
Today, in many ways, is the most important one of the series, so kudos to you for sticking with me thus far.
Over the last six days, we've looked at where you've been with your writing life, what your challenges are, what you want from your writing life, and what you need and want in both the big picture and the coming year, it's time to talk about how to make it all happen.
And remember, if you have questions, thoughts, challenges, comments, or problems, I'm your coach for one more day! Just post them in the comments section on the blog and I'll be sure to address or answer them for you.  
Let's go for part seven!!

Make your writing happen
You've done an amazing piece of work this week. You know what your goals are. You know what you want from your writing career and your writing life. You know what your trouble spots are.
Now what?
This, my fine writing friends, this is where the rubber hits the road.
It's all well and good to name your goals, but you've got to have a plan to make them happen.
Let's talk about how you can do that.
How to meet your writing goals in 2015
Luckily we've avoided having you create pie-in-the-sky goals with our work together. And we've made sure they are actually in alignment with the big picture of what you want.
But even so, there's still so much working against you that you have to have several key ingredients in place to help you overcome the resistance, fear, doubt, and procrastination that will rear up repeatedly like that monster you only thought you killed at the end of Act Two.
Here are some of the most powerful means you can have at your disposal to help you keep on writing even in the face of such horrors. 
A life decision to actually write. If you are going to be a writer, if you're really serious about it, you need to make up your mind right now that you will write no matter what. No more being a dilettante. No more waffling. No more excuses. No more dreaming without doing.
A bone fide, for real, no B.S., daily writing habit. Wanting to write is grand. ACTUALLY writing is grander. When you write daily or near daily, you will BE a writer. Getting there is not so easy. There are so many things that get in the way, as we've seen. Doubts, excuses, fear, resistance, perfectionism, LIFE. It's tough. And most of us think that we just need to resolve to write, or be more disciplined, or schedule it. But those things aren't enough by themselves. What you really need is a habit. A solid daily writing habit that means that even if everything goes sideways on you, you'll still be thinking, "Okay, wow, I still gotta write today, when am I gonna do that?", followed by quickly moving mountains to make it so. You want a writing habit that is so immutable that there's never even a question of IF you are going to write, only rarely a question of WHEN, and in fact it's something you just DO, like brushing your teeth or putting clothes on before you go outside. Something you wouldn't even think of NOT doing.
An inner knowing on when to "call it" on craft training. Yes, sometimes we need a little more training to do our best work. But I also know far too many writers who just endlessly take classes. We also have to be writing. Don't be one of those writers who keeps getting more and more training instead of facing the blank page. Sure, a class here and there. But don't keep going back to college for another degree instead of doing the work.
A writing schedule. Putting writing on your calendar is a huge step toward making your writing happen. It's an acknowledgment of the fact that you'll have to make choices to write, choices that will mean giving up other things, and being okay with that. It's a visual reminder that you're committed to writing, and carving out time to do so. Keep in mind, however, that a schedule is only a tool. You still have to show up and do the writing.
Massive amounts of accountability. When you're serious about writing, you'll want to have accountability in place to help you make it happen. Unless you are enormously and entirely self-motivated and never go astray from your path, you need accountability — as much of as needed for you to stay 100% on track on a daily, weekly, monthly, and yearly basis. My small group coaching program, the Writer's Circle, includes a daily accountability system for writers. Other kinds of accountability include writer's groups, mentors, deadlines, accountability parties, and writing buddies. Again, put as much of it in place as you need to write with a sense of purpose and intent. And then add a little more for good measure.
Support to get back on track if or when you fall off course. Writing is a lonely business. Get support for the dark days. We ALL face them, including me. Surround yourself with positive, supportive writers who will help you through the painful critiques, the negative reviews, and the days when you can't write a note to your kids about cleaning their rooms let alone face your novel.
Compassionate self-understanding. Writing is a tough gig. There will be days when you hate it. There will also be days that you LOVE it. But on the bad days, your inner critic is going to bat sh*t crazy on you and you cannot allow yourself to fall for it. It's a critically important skill to learn to combat your inner critic and keep on writing. This is something we do daily in the Writer's Circle.
Clear specific goals and projects. We've done a lot of work around goals this week, so I'm not going to add a lot here except to say this: Don't try to work on multiple projects at once unless you are a pro. If you're a newer writer, working on multiple projects at once is usually a death knell for all of them. Oftentimes writers will hop between projects when one gets too hard, but then struggle with discouragement over the lack of progress on any of them. My advice? Pick one and stick with it until it's done, even if it's hard and even if you hate it temporarily, at least to the point of a major milestone. If you finish a solid draft and move on to a new project to let the first one breathe, fine. But don't "layer" projects unless you are 100% capable of navigating between and finishing them.
A milestone plan for each and every project. I mentioned this yesterday too. Create a timeline for each writing project so you know where all the major milestones are and you know what you have to do to complete them. Don't just strike off in an "I'm just going to write every day" vague way. Know what you're trying to accomplish on a daily, weekly, and monthly basis so you can hit that yearly goal without binge-writing at the end or giving up in apathy and frustration part way through the year.
Hold these in mind as we go on to today's writing prompts:
1. What will you do to making your writing goals happen in 2015?
Think about what you will do to meet your writing goals. Be as specific as you can.
From Ginger, a Writer's Circle member:

"2015 for me is really about prolificacy. I've spent a lot of years sitting around plotting and planning and organizing and envisioning and figuring and sorting and assessing and weighing. That's lovely and all, but there's a point at which you must say to yourself, 'Well done. Now get to work.'

"For me, 2015 is going to be about multiple times a day writing, about learning to write in suboptimal circumstances, and finding creative ways around predictable blocks. Yes, I prefer to write in longer chunks – not necessarily hours at a stretch, which is too much for me, but more than 30 minutes. I would also prefer to live at Disney World. So this year I'm going to embrace small chunks. Five minutes here, 300 words there."
From my notebook:

"No more classes. Since I want to focus on my own writing and on my precious time with our new son, I need to keep the extracurricular activities to a minimum. This means having a clear plan and timeline for each of my projects, and a quiet, contained schedule within which to meet the necessary milestones. 2015 for me feels like a time to hunker down and focus on what's most important to me, rather than trying to do it all."
2. What actions will you take?
Then give some thought to any specific actions you need to take.
From Ginger:

"I haven't completely decided yet – that's part of what the Writer's Circle is for – but part of it is going to be about checklists. Little reminders. Maybe a timer on my phone saying 'write for three minutes' or 'write 100 words'.

"I suppose the biggest action I will take – and this is truly revolutionary for me – is trying different things. I will take small steps, rather than planning big steps."
From my notebook:

"I'm going to create a clear schedule laid out in a format I can easily follow and adjust — on a large wall calendar. And I'll keep reminding myself not to sign up for any more classes until 2016. :)"
3. What kind of support will you put in place?
Now think about what kind of support (and accountability) you need to make it happen.
If you're the kind of writer who starts out with the best intentions but then falls short of her goals, you'll want to give careful thought to this question. Oftentimes quality accountability and support are the critical variables that make the difference between "dreamed of" and "DONE".
From Helen, a Writer's Circle member:

"I plan to continue with the Writer's Circle until I finish the dissertation. The support is helping to propel my movement forward, and to counteract the negative criticism that I get in my regular life. I plan to ignore and/or mitigate the negative feedback, and to absorb more of the supportive and positive encouragement."
From Ginger:

"The Writer's Circle is really helpful for this because before, I would sort of flounder around saying, 'I don't know how to solve this.' I would spend all my time thinking about the problem and precious little looking for a solution. When you look up 'Reinventing The Wheel' in the dictionary, you'll see my face. But the Writer's Circle helps because I know that all I have to do is mention the problem in passing and I'm going to have a half dozen people who have already solved this problem giving me support. So that's helpful. So I guess what I need to do this year is actually use the support. Sometimes I feel like one of those people who doesn't go to Weight Watchers until they've lost weight, or doesn't call a cleaning lady because their house isn't clean.

"I guess this year is about using the support structure, even if my writing is feeling fat and dirty."

Writing prompts for Part seven: Make it happen
Here are your writing prompts for today. If you're inspired to do so, please share your responses in the comments section on the blog (and feel free to leave questions for me too, if you have them). Otherwise you can take them to your journal, talk them over with your writing colleagues, or just contemplate them when you can. 
What will you do to making your writing goals happen in 2015?
What actions will you take?
What kind of support will you put in place?
Thank you so much for writing along with me this week, and may 2015 be filled with joyous writing and many blessings.

Reminder: Last day for 2014 rates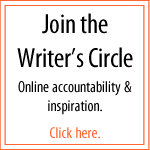 Before you head off to your journal, I have an important reminder about my Writer's Circle small group coaching program.
We're extending our 2014 rates through Midnight Pacific Time TONIGHT so you can lock in the subscription rate you select and save 30 to 50%, depending on the subscription package you choose.
The Writer's Circle small group coaching program will help you show up, get your butt in the chair, write, and see your projects all the way through to FINISHED.
The next session starts this coming Monday, January 5. It's the perfect time to build the professional writing habit you really need to meet your writing goals for 2015 and make this your writing year to remember.
Registration closes TONIGHT, Friday, January 2nd at Midnight Pacific Time.
Find out more and register online at www.JustDoTheWriting.com.