Happy New Year's Day, writers! And welcome back to the Make 2015 Your Year to Write series. 
We're deep into it now — and closing in on the end of our seven-part series! You've done so much work so far, first by reflecting on your writing life so far, then in part two looking at your writing patterns and challenges, and in part three tapping into what you want for your writing life. We went on in part four to explore how to close the gap between where you are right now and where you want to end up, and in part five, we looked at your big picture vision for your writing career as a whole. 
Now that we've built that solid foundation, it's time to look at what you want to achieve in 2015.
Even if you've already set your goals for the year, I'm going to invite you to use this process to help you refine them.
A quick note to those of you just joining us: It's perfectly okay to dive in now. The writing prompts for each piece are simple and only take a few minutes each, though you could certainly do more if you felt inspired. I imagine you sitting today, in a quiet moment, writing in your journal (or here on the blog if you're inspired to share) and contemplating your writing and your writing life for 2015.
Remember, if you have questions, thoughts, challenges, comments, or problems, I'll be your coach. Just post them in the comments section on the blog and I'll be sure to address or answer them for you. 
Let's jump in to part six.

Set goals for your writing year
Let's talk about the difference between goals and resolutions. 
A goal as something that we want to achieve — it has a specific desired result.
A resolution as a decision to do or not to do something. That resolution may also produce a result, but it may also be about a way of being or thinking as well. Resolutions can also encompass the how of our means of getting to our desired results or goals.
Both goals and resolutions are worth setting.
However.
I also believe it is important to set real, attainable goals and resolutions rather than creating unrealistic scenarios that are impossible to achieve. 
The reason for this is that when you make promises to yourself that you can't keep, you break trust with yourself. And when you can't trust yourself, it's hard to make anything happen or believe in your abilities when the going gets tough. And it will.
I'm seeing writers all over Facebook right now posting unrealistic goals. And honestly, it makes me feel a bit sad.
I'd much rather see you set a goal you KNOW you can accomplish than aim for something that just makes you feel bad and deters you from trying again.
That is NOT a good way to accomplish ANYTHING.
Let's look at how to set effective goals and resolutions, and then you'll work on your own with the writing prompts for today.
How to set goals
As you're working through this part of the process, make a point to keep in mind everything you've learned this week about your progress, process, challenges, changes, and visions as you set your goals and resolutions. Make sure they match up well. It's a good time to review your answers to the writing prompts from the prior days in the series so you can integrate them into your planning.
For instance, if you know you have an intense year coming up, keep your goals simple. Or if you know you have a hard time actually showing up to do the work, make your goals small enough that they don't overwhelm you. Or if you've been holding back from what you know you're truly capable of, see if you can raise the bar a little higher.
Here are the links again, for ease of reference:
SMART goals 
When it comes to goal setting, I'm a fan of setting SMART goals. Lots of people roll their eyes at the method, but don't worry, you don't have go all googly-eyed over it. Just use it as a quick check to make sure that your goal actually makes sense. It doesn't have to be fancier than that.
SMART stands for Specific, Measurable, Attainable, Resonant, and Time-Bound. 
Specific means that you are clear about what you are working on.
Measurable means that it is measurable in some way, whether through a number of minutes, words, or pages. 
Attainable means that you can reasonably accomplish it.
Resonant means that it feels like the right thing to be working on.
Time-Bound means that there is a clear ending deadline for its completion.
Here's an example:
Finish my current sci-fi screenplay by January 31.
Specific: Yes – my current sci-fi screenplay
Measurable: Yes – about 90 pages for the rough draft 
Attainable: Yes – if I write 2-3 pages a day for 31 days, I'll finish on that schedule. And since I have about 60 minutes to write each day, and I can write about 2-3 pages in an hour (sometimes more), that will be attainable.
Resonant: Yes – it's the project I'm most interested in working on and finishing next.
Time-Bound: Yes – the end of January
These kinds of SMART goals are useful because they help you get and stay clear about the What, How Much, and By When that are so helpful for keeping on track.
Here are a few more examples of SMART goals:
Write two new screenplays by December 31.
Write a new novel by December 31.
Outline my new novel by January 31.
Publish an ebook by April 15.
Revise and publish my two draft novels by December 31.
Other tips about setting goals
Be as specific as you can. Know what project you're going to work on if possible. Get specific about the numbers you're talking about, like numbers of pages and words for the project in its entirety. 
Reverse engineer your projects and compare them to the available time you have to write to make sure they are attainable. Use those word and page counts, compare them to your writing speed and writing time, and make a projection about how long your project will take. That way you can check the Attainable variable in your SMART goal.
Make a timeline for your project. While you're at it, lay out a timeline for your project so you know when you need to hit key milestones along the way, like chapters, mini-movies, act breaks, specific drafts, and submissions.
Plan in some padding or cushions for life to happen. It will. Allow yourself some flexibility. This doesn't have to mean days off (though it can, I'm not a "don't break the chain" tyrant) but it might mean having some leeway in what you're aiming for.
How to set resolutions
And let's talk about resolutions now.
As I've said, resolutions are often about decisions and hows, and can be incredibly useful when it comes to making bigger picture changes.
For example, you might make a resolution like this:
I will write every day.
I will treat my writing like a professional commitment.
I will schedule my writing and show up for it consistently.
A word about word and page count resolutions
You may notice that I'm not including examples like:
Write one page a day.
Write 1000 words a day.
There's nothing wrong with these kinds of resolutions, per se.
What's great is that they are reasonable and attainable resolutions for most of us.
But.
One of the big reasons we don't focus ONLY on word or page counts in the Writer's Circle is that they may not fit with the current stage of a project we are working on.
Word counts and page counts are terrific for writing Actual New Words. But when it comes to all of the other — and many — tasks associated with writing, it's a measuring stick that falls short.
Think about it.
When you're outlining, revising, editing, or polishing how do you measure word counts or page counts?
When we are revising and editing, we often cut words and even pages at a time.
Outlining isn't necessarily a word-laden process but an important tool for writing within a solid structure.
Editing and polishing certainly don't do much for word or page counts either.
And aren't these all valid and critically important parts of the writing process? 
When you set a goal or resolution that's focused on meeting a specific word count or page count each day, it implicitly negates ALL THE OTHER WORK you are doing or have to do and can leave you feeling like you haven't met your commitment or that you have to scramble around writing new words or pages when that has nothing to do with the stage of the project you're working on.
Not good.
What I recommend instead of word or page count only goals are time-based or time-and-count goals or resolutions, like this:
30 minutes a day
One page per day or 30 minutes of revising, outlining, editing, polishing
2000 words per day or 10 pages of editing or 60 minutes of revising, outlining, editing, polishing
The numbers themselves aren't important here, but the principle of adaptability is.
As long as you use this method within the context of a Time-Bound SMART goal, you can stay handily on track with your progress, rather than feeling discouraged for not meeting a goal every day that doesn't actually match with where you are in your process.
The bottom line? When you set resolutions that point to the hows, match them up with the specific stages of your writing projects so you stay inspired to keep on writing.
Onward to today's writing prompts!
1. Where do you want to be at the end of 2015? What would you like to have finished and accomplished in your writing life? 
When you're answering these two questions, go with your gut.
You can use the tips I've shared here about goal setting or just wax poetic for a few minutes. (We'll get really specific about the HOW of all this tomorrow, anyway.)
I found myself writing out "I wants" as I worked with these last night.
From my notebook:

I want to focus on my own writing at my own pace.

I want to publish a simple writing habit ebook by the end of the year.

I want to write two new scripts by the end of the year.
2. How will that feel?
To help yourself anchor in the goal, think about how it will feel when you achieve it.
Here are responses from some of our Writer's Circle members:
From Wendy, a Writer's Circle member:

"By the end of '15, I'd like to have The Endless Runway published – it needs editing; The Lost Witches established, and I hope I'll have gained marketing experience. I will also write more books, the possibilities are endless! I'll feel as if I've moved into a place I've always wanted to be."
From Tracee, a Writer's Circle coach:

"At the end of 2015, I plan to have written three more screenplays, including the rewrite drafts. My goal through the year will be to stay very organized and committed to my writing, keeping my writing time sacred and respecting that time as one of the most important things in my life. I think, along with feeling proud of myself for getting that much done, I will also feel like the professional I have become. It will be empowering to know that I can treat writing as more than just a hobby."
From another Writer's Circle member:

"I want to have my novel Skein completed and in the query stage, hopefully on the verge of being accepted. I'd like to also have my first novel of the Cherubim series on its way to completion. It will be scary. It will be terrifying. And I want to feel like I MUST do it anyway."
From Helen, a Writer's Circle member:

"My goal for 2015 is to finish my dissertation and doctoral program.  I intend to continue my research by writing articles for scholarly journals.  Eventually, I plan to be a Subject Matter Expert in my areas of interest."
From Sonya, a Writer's Circle member:

"At the end of 2015, I will have published my first eBook – Healthy You. I will feel awesome because I will be making a difference in someone else's life and shared what I have learned along the way."
From Jo, a Writer's Circle member:

"I want to continue to be gain validation about my writing from myself and not look outward for it. 

"I don't like reading works that are safe and predictable, so why would I want to write them? So I will dive back into the novel that I started last year and really go for what I want it to be, mine the complexities of feelings and characters no matter how difficult and write the kind of book I want to read, trusting that others will feel the same way.

"I will care less about being 'a best seller' and more about being finished and out there for whomever is looking for my voice.

"Truly claim the phrase 'I am a writer.'

"I will be proud of myself. I will know that I set a goal and met it and that I did the best I could. And I will know that by acknowledging that I am a writer, I am acknowledging what I am and have always been in my deepest, most authentic core. As I was contemplating the answers to some of these questions, I felt a deep vibration inside – like my soul humming. Writing is what I am meant to do, it is what I need to do, it is what the universe needs me to do. Honouring writing in my own voice, I now know will have far-reaching and profound impact on my soul. It occurred to me that I could make all my fantasies come true through writing – creating characters, plots, resolving conflicts."

Writing prompts for Part six: Goals & Resolutions
Now it's your turn! Here are your writing prompts for today. If you're inspired to do so, please share your responses in the comments section on the blog (and feel free to leave questions for me too, if you have them).
Or, you can take them to your journal, talk them over with your writing colleagues, or just contemplate them when you can. You're welcome to share any insights and Aha's in the comments too.
Where do you want to be at the end of the year? What would you like to have finished and accomplished in your writing life?
How will that feel?
And don't miss tomorrow's post — the most important one in the series — about how to make this all actually HAPPEN.
An important reminder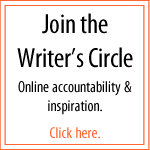 Before you head off to your journal, I have an important reminder about my Writer's Circle small group coaching program.
Our rates are increasing in 2015, but we're extending our 2014 rates for just a few more days so you can take advantage of them for the session that starts on Monday, January 5 AND lock them in for as long as you keep your subscription current, active, and continuous. When you enroll now, you'll guarantee yourself the 2014 rate and save 30 to 50%, depending on the subscription package you choose.
The Writer's Circle program is designed to help you show up, put your butt in your seat, WRITE, and see your projects all the way through to FINISHED. 
The next session starts this coming Monday. It's the perfect time to create the support you really need to meet your writing goals for 2015 and make this your writing year to remember.
Registration closes on Friday, TOMORROW, January 2nd at Midnight Pacific Time.
Find out more and register online at www.JustDoTheWriting.com.