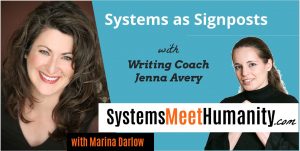 Thank you for listening to my Systems Meet Humanity interview with Marina Darlow. It was great fun to speak with her about writing and building a writing habit. 
As promised, when you subscribe to my mailing list, you will also receive some gifts from me, including my Top 10 Favorite Writing Tools Guide, plus my other guidebooks for writers. 
Just click the Subscribe Me! button below and enter your information on the sign up form to subscribe and receive your downloads.