Welcome to the Make 2015 Your Year to Write series! Now that the holidays are behind us, it's that time of year where we are naturally drawn to look ahead to the coming year and dream about and plan for what we want to accomplish. As writers, of course, our focus is on our intentions, goals, and visions for our writing.
But not so fast! There are a few — and often overlooked — steps to help you to set your goals in such a way as to assure your success.
Over the next seven days, I'll be sharing seven articles with you about the key steps you can take to make 2015 your writing year to remember.
Each article includes a set of simple writing prompts that you can complete on your own or here on the blog in the comments section.
Throughout the week, I'll be your on-the-spot writing coach, so if you have questions, thoughts, challenges, comments, insights, or issues, just post them in the comments section on the blog and I'll be sure to address or answer them for you.
Today we'll get started by reflecting on your writing life.

Reflect on your writing life so far
We start with reflection to first establish the foundation of where you are and where you've been. 
This is important because most of us have a tendency to focus purely on the goals and resolutions we're setting for the new year and what's next, but skip right over the realities of what's happened for us this year and what our current writing life looks like. Unfortunately, this is a recipe for pie-in-the-sky goals that have a less-than-likely chance of succeeding. And we want you to succeed, right? ;)
So first, to begin this process together, we'll look at where you are right now, and where you've been, before we move on to what's next. 
You can call this "completion" work if you like.
We'll do this by answering a series of three simple questions, starting with:
1. What has your writing given you?
First, we'll start by having you look at what your writing has given you. What gifts it has brought to your life, and what opportunities?
While you think about this, think back over 2014, and also your writing life as a whole.
For example, when you think about the trajectory your writing life has taken, are you enjoying it? Are you happy with the track you're on, or feeling dissatisfied? What has being a writer brought to your life that you would not have otherwise had the opportunity to experience? 
I've reached out to my Writer's Circle participants (and included notes from my own insights) to share their thoughts with us as we go through this process together:
From my notebook:

"In the last year of writing, my writing has given me a way to stay connected to myself. As a mom of now two children, one born this year, having this way to know who I am outside of motherhood has been a safety anchor for me. Sleep deprivation, breastfeeding, and the all-encompassing 24/7 nature of the job of "mother" can be entirely overwhelming, and though it has been hard at times, I've been grateful to have this special thing called "writing" that is entirely my own.

"Writing has also strengthened me. I have a stronger ability to focus. My trust in my own creative process has grown. My understanding of myself through my writing has expanded exponentially. I'm continually learning, growing, improving and expanding my ability to write well, to write more clearly in my own voice, and to write in a such a way that feels both faster and freer."
From Helen, a Writer's Circle member: 

"My writing is mostly scholarly/academic. I noticed that while I am writing on a particular topic, then I usually feel more knowledgable about the topic after I have completed the paper. As this knowledge grows, I plan to become a Subject Matter Expert on my various topics of interest."
2. What are you most proud of?
While you're contemplating your relationship with your writing, also ask yourself, what are you most proud of? 
Here again, it's worth looking at both this current year and your writing life so far.
And please, don't be hard on yourself. If you have a hard time coming up with something you feel proud of, see where you can stretch your awareness. There is always something to be proud of, even if it's something like, "I always kept my goal to be writing at the forefront of my mind." Or, "I am crystal clear that writing must be a high priority for me 2015."
From Tracee, a screenwriter and Writer's Circle coach:

"Somehow, despite life and Facebook, I managed to write four screenplays this year! In the past, I was lucky if I wrote one in a year. I am quite proud of that but I am even more proud of creating a writing life that allowed for such an accomplishment." 
From Sonya, a Writer's Circle member:

"I am most proud of having done the coaching and Writer's Circle for a full year. Even with my divorce and money troubles, I made this a priority. I want to continue to do so for 2015."
3. What did you accomplish with your writing this year?
One of the biggest mistakes we tend to make as writers is to keep our eyes only on how much further there is to go, without remembering to take stock of what we have accomplished and completed.
For this question, we want you to examine what you accomplished, regardless of how big or small.
Take an inventory.
How many words, pages, books, scripts, blog posts, etc., did you write? What did you put out into the world with your writing? Are there intangible things you accomplished with your writing?
Take the time to look back over 2014 and make notes about what you've accomplished. 
From my notebook:

"This year, I've kept writing even in the midst of having a new baby. I've kept up my blog, with both my own posts and guest posts, rewritten, recorded, and released my Design Your Writing Life series, completed numerous assignments for the screenwriting classes I've been taking, completed a rewrite of my first script, generated over 165 concepts for new script ideas, developed an outline for a brand new script, and started writing pages for the new script. I'm thrilled about it too, considering I was wickedly sick at the beginning of the year, and navigated through both a rocky third trimester, a birth, and still allowed for lots of bonding time with our new little boy."

Your writing prompts for part one: Reflection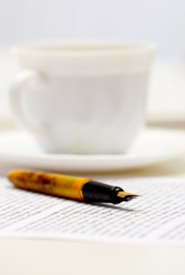 So here they are, our questions for the day, assembled in one place for your writerly convenience. Take these writing prompts to your journal to consider them, copy-paste and write out your answers in the comments section on the blog, mull them over when you have a quiet moment, or chat about them with your writer friends. 
What has your writing given you this year?
What are you most proud of?

What did you accomplish with your writing this year?
And lest you feel unsatisfied with not looking at things left undone or that feel otherwise troublesome, don't worry, we'll tackle that question tomorrow when we focus on the writing patterns, challenges, and any regrets you're facing.
"See" you then!