I haven't really taken a proper day off this Labor Day weekend, though we did get to take the boys swimming up in warm Sacramento on Saturday, which was lovely. I hope you're having a terrific Labor Day if you're off work today. 
What's been preoccupying me lately is been looking over the results of the survey (and packing up books for our winners, so fun!).
It's been fascinating to see how the answers spread out in response to the question, "Do you struggle with any of the following with your writing?"
Here's a look at all the survey results for this particular question (click the graphic to open it up into a larger window):
Do you struggle with any of the following with your writing?
Over 71% answered "procrastination," which doesn't surprise me. Interestingly, 71% of you also said you felt called to write "without a doubt".
Isn't that an interesting statistical match up?
The statistic that really stands out to me though, is the second one in the list, which comes in at 44% — "Jumping from project to project and never finishing anything". 
It's worth talking more about why this happens and what to do about it, but I'll give you a hint right now about what underlies that "habit": Perfectionism coupled with self-doubt and normal resistance (but perfectionism takes the lead).
And of course "Wishing you had more time" comes in close behind it at 38%.
The next batch of highest ranked challenges makes an interesting collection too:
Thinking you aren't creative enough or don't have good enough ideas, 35%
Not feeling like a "real" writer, 35% 
Being too busy with work, 34% 
Followed closely by:
Struggling to find big blocks of time to write, 31%
Feeling that you need more training, 29%
Can you relate to any of these?
Some of these are "trick" questions of course, and I'll be telling you more about why that is when we talk for the teleclass. (N.B. I'm postponing this class until later in the fall and will keep you posted!)
The answers that were "other" included things like:
Insecurity and self-doubt
Being afraid to finish because of being unsure what to do next
Feeling like no one will want to read what you write
Feeling under-skilled and ignorant
Failing to set firm boundaries around your writing time
Feeling depressed because of other life issues
Not getting up early enough or scheduling writing time 
Struggling with organizing and editing 
Perfectionism
Not enough income
And of course I have thoughts and suggestions about how to deal with all of these too, which I'll aim to discuss in the teleclass.
Thanks to everyone who participated!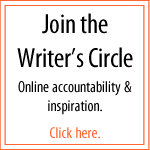 In the meantime, if you're struggling with any of these challenges, my best solution (and/or doing private coaching with me) is my Writer's Circle group coaching program. The next session starts this coming Monday, September 14th and we'd love to have you join us!