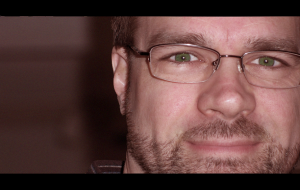 Note from Jenna: This guest post is from one of my favorite screenwriter pals, Tomm Gillies. Tomm is a writer, director, and lighting designer with a more than full-time business that keeps him on the road a LOT, and a family he loves spending time with. Finding time to write isn't always easy for him, but he makes it happen.
Take a look and see what you can learn from how he does it.
Making Writing Happen
 by Tomm Gillies
Trying to kick-start a writing career when you already have a full-time day job or run your own business is like trying to run on two treadmills at the same time. As if that isn't hard enough, the treadmills are probably running at different speeds. One (the full-time gig) may be chugging along nicely, whereas the writing treadmill is sputtering in fits and starts, or not moving at all.
So, how do you get that one going without allowing the other one to slow down too much or stop? And, perhaps more importantly, when can you transition from one to the other?
What happens when your writing career finally starts to blossom into a full-time gig?
When do you decide to leave the old day job for the new one, writing?
Like it or not, when writing becomes your career, it is your new day job.
Because, like it or not, when writing becomes your career, it is your new day job.
You still have to go to work. Every day.
But before you start to answer those questions, you need to write. And for that, you need time.
So, what's the secret?
There isn't one. At least it's not a secret. All that stuff you've heard before? Turns out it's mostly true.
But the one that rings truest? You have to love writing for it's own sake.
You have to love the process, the craft, the assembling of letters into words, words into sentences, and sentences into paragraphs.
You have to love the idea that mere words can create an emotional response in someone you may never meet, the idea that mere words can inspire or destroy.
You have to love writing. You have to love writing. Oh, and one more thing: You have to love writing.
But you're not reading this blog to hear that.
When you don't have time for writing
You already love writing. You want to write. You just feel as though you don't have the time.
I'll let you in on the real secret: You have the time. It's there. You just need to locate it. And then you need to protect it. Protect it like Gollum protecting his "precious".
As soon as you do that, you will discover more time for writing. You will start to suffer withdrawal when you haven't written on a particular day or for a few days.
Sure, you'll still have those moments when you stare at a blank page during your writing time with no words coming. That's okay. Write about not being able to write.
Step away from the computer and grab a notebook or a journal. Write a To-Do List. Write a grocery list. Write a letter to your mother, your best friend from high school. Compose a Tweet – but not on Twitter. You do tweet, right? That's writing.
Write something.
Don't cheat the time just because you don't know what to write in that particular moment. Even if you're working on a particular story, novel, or script, if you're stuck at that moment, write something else.
The point is to use your writing time to write. That's what makes it a habit.
How I find time to write
I own my own successful business. We have two employees and I am one of them. I travel a lot — 30,000+ miles a year and growing.
My best writing time? On the plane.
I'm stuck in a metal tube 30,000 feet in the air for 2+ hours. I put on my headphones, open up my laptop and start writing. In fact, I'm composing this post on a trip to Los Angeles.
Sometimes, I set up my laptop beforehand. I shut down any unnecessary programs. Where most people see travel delays as an inconvenience, I count it as more writing time.
It's also helped me when I'm home. I create my own little airplane-like environment and write.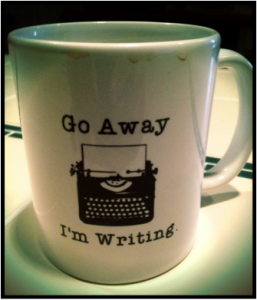 For Father's Day one year, my wife and kids got me a coffee mug that says "Go Away. I'm Writing." They know when I'm using that mug it's writing time.
But in order to get to that juncture, I had to overcome some obstacles. I had to be honest with myself, first. I spent some time answering these kinds of  questions:
How committed am I to making writing my career?
How busy am I really? How much time do I spend doing "fake work" vs. "real work"?
How much time do I currently spend on social media or other distracting websites?
What are all of the things clamoring for my attention on a daily basis? (I made a list, and prioritized it into important, urgent, would be nice, distracting, unimportant.)
How many time blocks (as little as 5 minutes) do I have during a day when I could be writing?
And again, How committed am I to making writing my career?
Now it's your turn
Be brutally honest about how much time you spend not writing. Don't beat yourself up, but be honest. Take your time. What are some things in your life that you see as obstacles that could be removed? Some are easy. Some only seem easy. Some are hard.
Rather than waiting for that "perfect" moment/place/inspiration/etc…, what can you do within your current situation to create time for writing?
In the end, I think you'll be surprised how much time you do have.

Tomm Gillies is a screenwriter/director who writes on airplanes, in coffee shops, in hotel rooms, and occasionally at home. You can follow him on Twitter: @AbstractChicken

Thanks for reading!
We'd love to read your thoughts in the comments.
Warmly,