One of my all time favorite quotes about writing comes from Steven Pressfield, author of what has become my bible for writing, The War of Art*. In it, he says:
"There's a secret that real writers know that wannabe writers don't, and the secret is this: It's not the writing part that's hard. What's hard is sitting down to write. What keeps us from sitting down is Resistance."
As a writing habit and motivation coach, I work with writers all over the world who face and tackle this resistance every single day as they struggle to sit down to write. Very often that resistance takes the form of the word "But".
But I don't have enough time.
But I don't have enough training.
But I don't know what to write.
But I'm not inspired.
But I'm not a good enough writer.
But I'm not in the right mood.
But I need to take care of all these other tasks first.
But I'm not making enough money yet to justify taking time to write.
But I don't have a laptop.
But I'm tired, I didn't get enough sleep last night.
But I'm too busy.
But my day job takes up too much of my time.
But I don't have a private space.
But my kids will interrupt me.
But my mom might call and need me.
But I'm bored with this project.
But I can't decide which project to start with.
But I'm stuck.
But I have writer's block.
But if I was a real writer, it would come easily to me.
But I have to deal with this crisis/emergency/major life issue first.
Guess what?
All these Buts are just stories. They are coming up for a deeper reason.
The deeper reason is fear.
Fear is what truly stops us from writing. The Buts are just the surface level rationalizations for fear. They are convenient excuses to keep your butt out of your chair and doing other things so you don't have to face the discomfort of taking on your dream.
Pressfield also says:
"Never forget: This very moment, we can change our lives. There never was a moment, and never will be, when we are without the power to alter our destiny. This second, we can turn the tables on Resistance. This second, we can sit down and do our work."
It turns out that actually DOING the writing is fairly easy. Most of the writers I work with find that once they are actually putting words on the page, they forget about the inner struggle and just do the work. In the Writer's Circle we run five weekly group writing sprints to help our writers overcome the resistance to sitting down to write (and to curtail the sense of isolation). My other favorite trick is to write first thing in the morning with a timer running. Pushing the start button gives me a "GO" that gets me into gear even when the Buts are loud and pernicious.
The thing to notice here is that fear is a beacon. It guides you exactly where you need to and even want to go, though you may not be aware of that wanting yet. The thing is, if it wasn't a big, big dream, you wouldn't be afraid of it.
No, I'm not talking here about naturally protective fear that keeps you safe from lions, tigers, and bears — that's GOOD fear — I'm talking about the kind of fear that's a holdover from when you were a kid, the kind that's trying to keep you safe from any kind of personal humiliation or risk. This is also the kind of fear that's keeping you "safe" from achieving your dreams.
I didn't quite mean for this to become an ode to Steven Pressfield, but he has so much genius on this subject I can't help sharing a few more of my favorite quotes from him about fear:
"Fear is good. Like self-doubt, fear is indicator. Fear tells us what we have to do. Remember our rule of thumb: The more scared we are of a work or calling, the more sure we can be that we have to do it."
And:
"Figure out what scares you the most and do that first."
So it's time.
It's time to stop listening to the Buts, the fears, the doubts, and the rationalizations. It's time to site down and do the work, to coax yourself through the fear with lots of support and promises of rewards, to feed your own well of creative inspiration so you feel consistently nourished and ready to write, and to learn whatever you need to learn so you feel equipped to do the writing. But above all else, it's time to write.
Build the habit to overcome your own resistance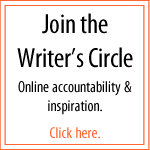 If you're a writer struggling to overcome your writing resistance, join the next session of our Writer's Circle. We'll help you build a regular, consistent habit of writing so the battle to overcome resistance each day gets easier. Plus, you'll have a great community of support, working alongside other writers committed to showing up and doing the work. Find out more and register here: http://JustDoTheWriting.com
Thanks for reading!
As always, we love to hear your thoughts in the comments.
Warmly,

You may also be interested in: