Happy New Year, writers!
We're kicking off a new year here at Called to Write with a new author insights series featuring book giveaways. I'll be introducing you to writers who've taken their writing all the way to the finish line of publication, and they'll be sharing their "lessons learned" stories with you. There's nothing quite like learning from a writer who has made to the other side.
Plus, if you leave a comment at the end of the post before Tuesday, January 17th, you'll be entered to win an autographed copy of the author's book in a random drawing. (You must be located in the United States to win.)
Meet Donna Baier Stein, author of The Silver Baron's Wife
Let me introduce you to Donna Baier Stein. Donna was a member of my Called to Write Coaching Circle in 2012 when she was working on establishing a writing habit to help her complete her first book. And the proof is in the pudding, because, ta-da, her book The Silver Baron's Wife came out in the fall of 2016. So exciting! 

I asked Donna to share her greatest insights from writing the novel.
Seven Tips From First-Time Novelist Donna Baier Stein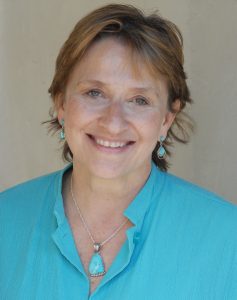 I chose the historical figure of Baby Doe Tabor as the main character of my first novel thinking her fascinating, event-filled, roller coaster life provided its own ready-made plot. I'd been writing stories and knew that my strength was language, not narrative structure. I'd even spent time in two radically different writing groups—one focused on literary fiction (heavy on characterization and language) and one focused on more plot-oriented genre fiction. I, rather arrogantly it turns out, preferred the literary focus. I was definitely a pantser rather than a plotter.
So I decided to write about a woman whose life story had already been the subject of an American opera – The Ballad of Baby Doe – and several other books. There were so many events to choose from her life: her work in the silver mines of Colorado and first marriage to a philandering opium addict, a second marriage to a man worth $24 million when they married at the Willard Hotel in Washington, DC, with President Chester Arthur in attendance, her years writing down her dreams and marking visitations of spirits on her wall calendar at the Matchless Mine in Leadville. All I had to do was write what had happened in Baby Doe (Lizzie's) life, I mistakenly thought, and voilà, I'd have a novel.
So I started my research. I researched for years, taking occasional stabs at writing early chapters. But the writing of the novel was far less easy than I'd naively hoped it might be. Here's what I learned from my mistakes:
A writer can do too much research. I had boxes of hard copy files and dozens of folders on my computer. And in early drafts, I put far too much emphasis on describing the physical details of clothing, furniture, food of the era. I'd say "Bluchers" when saying "boots" would have sufficed, for instance. It was only in the final drafts that I realized I could focus only on the items that the characters came into direct contact with… and see them as they would see them, not as if they were described in a museum catalog.
Narrative arc is key. I discarded many early chapters about Lizzie's childhood because they didn't serve to tell the story I ultimately wanted to tell. I had to choose certain episodes of her life, ignore others, and create new ones in order to show the change in Lizzie I wanted to reveal. The novel, unlike a biography, wasn't just about re-telling Lizzie's life. Its purpose was to reveal a theme and a transformation in my main character.
When writing dialogue, be inside your characters. At first, I felt intimidated by them. How could I talk like a 19th century woman talked? I did find some historically current slang phrases to toss in, but mostly I wrote dialogue as I heard Lizzie and other characters saying it in my head.
Be inside your characters as they move through a room, too. It was like being an actress on a stage. Instead of seeing Lizzie from an outside view camera, I had to metaphorically go inside her. See what she would notice in the rundown mining cabin in Dogwood or the extravagant villa in Denver. And feel what she might have felt living in such radically different environments.
For me, writing in first person really helped me inhabit my main character. An agent once told me that third person limited narratives were easiest to sell. I rewrote the book that way and though it came close, it didn't sell on that go-round. I went back to the first person voice I felt most comfortable writing in, and I'm happy with the result. That was the way I wanted to tell Lizzie's story from the beginning.
It's hard, though certainly not impossible, to give adequate attention to every phase of someone's entire life. The next novel I write will focus on a much shorter time frame than 81 years.
Don't be obsessive about rewriting until you've got your story down. I must have rewritten the first pages of the novel fifty times. I thought, mistakenly, that I had to have it exactly right before moving forward. This is not the way to get a novel written.
I've already started writing a new novel, and I'm grateful to have the first under my belt. I'm sure I'll learn new lessons this time, too!
About The Silver Baron's Wife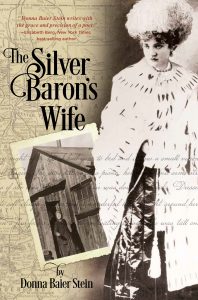 Kirkus Reviews called the The Silver Baron's Wife "an artistic, sympathetic imagining of the life of a 19th-century woman who made headlines for all the wrong reasons." Foreword Reviews gave it five stars and said, "A unique portrait of a time and place populated by fearless people, this reimagination of an uncommon woman is powerful."
The Silver Baron's Wife is available on:
About Donna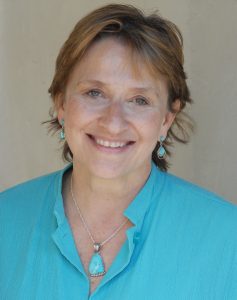 Donna Baier Stein is the author of The Silver Baron's Wife (PEN/New England Discovery Award), Sympathetic People (Iowa Fiction Award Finalist), and Sometimes You Sense the Difference.
She founded and publishes Tiferet Journal. She has received a Scholarship from Bread Loaf, a Fellowship from the Johns Hopkins University Writing Seminars, three Pushcart nominations, and prizes from the Allen Ginsberg Awards and elsewhere. Her writing has appeared in Writer's Digest, Virginia Quarterly Review, New York Quarterly, Prairie Schooner, and many other journals and anthologies.
She is currently completing a new collection of stories based on Thomas Hart Benton lithographs. You can find Donna online at www.donnabaierstein.com.
Enter to Win a Copy of The Silver Baron's Wife!
Donna has graciously agreed to give away 3 autographed copies of her book to my readers. Leave a comment on the blog about one of your own writing lessons or something you learned from Donna's insights before Tuesday, January 17th at 5 p.m. Pacific Time and you'll be entered in the random drawing. You must be located in the United States to win.