Hello, you writing genius, you...
Writing matters to you. You're here because you feel called to write. And…
You've got so many ideas… and feel overwhelmed by them.
You're passionate and visionary… but can't seem to quite get your book (or script!) finished — or maybe even started. 
You feel like you're on the verge of a creative breakthrough… but it still feels like you're holding back. Perfectionism, fear of failure, resistance, and procrastination all get in your way.
I'm Jenna Avery. I'm a writer, a writing coach, and the founder of Called to Write.
Around here, we help creative writers like you — complicated, visionary, and sensitive — grab hold of the bigger vision of what you were put here to do, get out of your own way, and claim your creative calling so you can bring your writing to the world in all its powerful glory.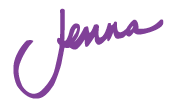 Upcoming Events, Courses, & Latest Articles
December at Called to Write
Enjoyment: Focusing on the joy of writing and what it brings us. December 1 & 15.

Ask the Coach @ Script Mag
What prioritizing writing means, where we run into trouble, how to actually do it.
Wednesday Writing Retreat
Next retreat is December 14. Sacred writing time before the holiday onslaught (on sale).
Story Craft Q&A
With guest expert Jeff Lyons of Story Geeks. Next session December 8.
Make This Your Year to Write
On sale! Make This Your Year to Write is on sale through 1/31— or free for members.
Making Writing Actually Happen
Intensive writing habit course. Starts December 1.
Join the Called to Write Community