When you're venturing out into the world to be seen by an audience — into the spotlight — your fears of ridicule and judgment are apt to rise quite high.
It's enough to keep you in perpetual procrastination mode, never quite finishing your book, website, screenplay, speech, or ________ so you can truly put yourself out there.
Change your underlying story
The path to the spotlight requires changing your underlying story about your "tomato fears" so you don't feel held back by them.
Among the many tomato fears, like creative apathy, creative confusion, and creative blocks, you'll likely face fears like these two:
The "It's all been said before" syndrome
This comes up when you think you have nothing new to say, there's nothing new under the sun, and hasn't it all been said before?
These messages and questions will keep you quivering in silence unless you adopt a new mindset.
Try these ideas on for size:
Remember that YOUR audience is waiting to hear from you.
They may never "get" what it is that you're here to share unless YOU share it.
Even if you're sharing something that's not "new," your unique take on it may be exactly how they need to hear it to finally "get" it.
The "Who do you think you are" syndrome
This is fear rearing its ugly head in the form of, "You're not special. Who do you think you are?"
Try this on instead:
Understand that this is your divine contract to deliver and take your ego out of the equation.
Recognize that interacting with your audience is a sacred exchange of energy. Treat it respectfully and reverently.
(These are excerpts from my Sensitives in the Spotlight class which will be available in my shop later this year as a self-study class.)
Change your questions, change your life
One of my favorite quotes from Tony Robbins is, "To change your life, you have to change the questions you ask yourself."
Your philosophy and the questions you ask yourself about being in the spotlight and sharing your creative work profoundly shape your experience.
Change them, and change your life.
Your turn
I'd love to hear what you think! Your comments are always welcome.
Warmly,


Expand your Spotlight Comfort Zone
With practical and spiritual tools to help you get there
In a safe, sensitive-friendly 6-week study group
If you want to summon your courage and step into YOUR spotlight, join my upcoming Spotlight Study Group, where we'll have a safe, sensitive-friendly, small, intimate coaching group to clear up the fears, doubts, old wounds, and other obstacles to claiming your place in front of your audience — where you belong.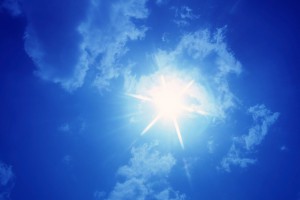 ~> FRIDAY, April 13th, 2012. (Extended an extra day!) Last day to register for the next session of my Writer's Circle session starting on April 16th. Sign up here.
~> April 19th, 2012. Last day to register for my next Life Purpose Breakthrough Group on May 17th. Only 3 spots remaining. These groups consistently sell out, so if you'd like to join me, reserve your spot ASAP. Register here.
~> April 19th, 2012. Teaching a live webinar for Writer's Digest, "10 Practical Tips for More Consistent, Productive Writing." Register here.
~> May 1st to June 5th. My new Spotlight Study Group for sensitives, artists and hermit types who are ready to take their call to the spotlight more seriously and clear up the obstacles getting in their way. Register by 4/15 and save $100. Details.

~> Ongoing. Writing in the ProSeries class at ScreenwritingU. Starting the marketing module today!
~> Sacred writing time. Early mornings and Fridays.
~> Now reading Harry Potter and the Goblet of Fire with my boy. I'm thinking I'm going to have to knock off after that for a while because they do take a turn toward the darker side and he's still just a little one. We'll see. I'm also thoroughly enjoying watching Downton Abbey and Enlightened. Great shows, both.