And we're back! It's time for the next installment of our "Author Insights" series. In this series, I'm introducing you to writers who've taken their writing all the way to the finish line of publication, and they share their "lessons learned" with you. There's nothing quite like learning from a writer who has made to the other side.
Plus, if you leave a comment at the end of the post before Friday, May 12th at 5 p.m. Pacific Time, you'll be entered to win an autographed copy of the author's book in a random drawing. Please note that you must be located in the United States to win.
Meet Elaine La Joie, author of The Empath as Archetype
I'm thrilled to introduce you to Elaine La Joie. Elaine and I have worked together in various ways over the past 15 years since we first met after attending the same coach training program. Elaine has gone on to become not only a coach but is now also a shaman, who specializes in working with empaths. Elaine has chosen the self-publishing path and has put out five books, now bundled into one in the The Empath as Archetype. Her books are particularly valuable for sensitives and empaths who find themselves stuck in challenging relationship situations. Being a shaman and an expert in the Enneagram Four, Elaine always brings a higher view of relationship interactions I find illuminating and freeing. 
I asked Elaine to share her insights about writing her books with us. 

Elaine La Joie on Writing The Empath as Archetype

I had wanted to write ever since I was a child, but I always thought I'd write fiction. However, after coaching empaths for a few years I found myself writing non-fiction.
At first I wrote short essays for my blog about topics that came up during client sessions that I thought most empaths would appreciate.
Then, as I expanded my knowledge base from plain coaching to the Enneagram to shamanic energy work, I found myself explaining these concepts to new clients, which took too much time away from diving into the healing work, so I decided to write a guide that clients could read before they started working with me.
Structuring a Complicated, Massive Topic
However, the book I imagined was complicated. I was bringing together topics from the Enneagram, shamanic energy work, and archetypes, and then writing specifically for the empath archetype. It was overwhelming.
Instead of writing I found myself spending time thinking about how to arrange this massive treatise, which led to frustration and procrastination. I solved this by going back to observing my clients and what we needed to unravel and work on first before major progress could be made.
This helped me see the three disparate topics my clients needed to understand before they could achieve deep healing and shift their ingrained patterns, and I organized my work accordingly. I wrote three books about the archetypal drama triangle, which is particularly problematic for the sensitive empath, shamanic energy work, and the enneagram archetype of the empath. I published these on my website.
Navigating Expanding My Reach with Amazon
Once I had self-published the books on my site, I had a few sales, mostly from new clients and others curious about my work. The feedback was good, but small. I kept writing, this time shifting to major case studies with the assumption that the reader had absorbed the concepts in the first three little books.
Because I wanted to expand my reach, I started looking into how to upload my books to Amazon. Luckily by the time I was ready to publish on Amazon, they had made the process relatively straightforward and free with both their digital system (Kindle) and their softcover publisher (CreateSpace).
But I noticed that I was procrastinating again—the thought of having my books reviewed by the general public was for the most part scary and unappealing.
Making Peace With the Possibility of Bad Reviews
My books were written for a very specific audience, an empath who wants to change his or her life. A non-empath would not understand these books. An empath that was interested but not ready to look at the shadow work required to heal themselves would most definitely find my books upsetting. They might leave rotten reviews. In many ways I felt like I was setting myself up to be misunderstood and misrepresented.
At the same time, I knew this work would be helpful to that segment of the population of empaths who were ready to dive in and do the deep healing work.
So, I had to prepare to get bad reviews. I made two shifts with my thinking that helped tremendously:
I made a conscious decision not to take any reviews personally and to trust the work would reach the audience for whom it was intended. Because I am an empath, and empaths tend to take everything personally, I had to remind myself that my feelings in the moment would pass; I should honor my feelings, but not take them too seriously, even the happy feelings around good reviews. This helped me be both less attached to good reviews and less fearful of bad reviews.
I reminded myself that personal work for anyone is very difficult, and that it is a common human behavior to shoot the messenger. My work is all about being the messenger for people who are hurting and wanting to heal themselves. In doing one-on-one work with clients, it is relatively easy to match my client and maintain a relationship that works for both of us, but every once in a while a client tries to shoot the messenger. It doesn't happen often because we have built up a relationship of acceptance and trust, but when it does, I don't take it personally because I understand the nature of healing work and the role of the shaman. Once I started thinking of my writing as working one-on-one with my favorite clients as my audience, it was easier and less scary to move forward. However, because I wasn't really working one-on-one with each reader, it was guaranteed that I would be shot down at least one time out of ten.
Luckily for me, most of my readers so far have wanted to do the work, so most of my reviews on Amazon have been very good. Many empaths can be shy, so I receive much more positive feedback through emails than through reviews, which is also heartening. There are awful reviews as well, such as one from a reader who gave my last book one star after starting with it first instead of last. This person did not to read the other books, but gave them all one star reviews anyway. This was both amusing and upsetting at the same time, but in the grand scheme of things, the work is out there, and people can take it or leave it, just as they take or leave one-on-one session work.
Overall my writing experience has been a very good one. I have been very lucky to have a niche in which to write. I also entered self-publishing right when the process became easy and straight forward.
As it turned out, the literal process of self-publishing was easy—the hardest step was moving past my fears and putting the work out there.
About The Empath as Archetype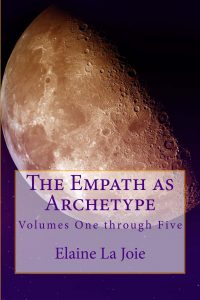 The Empath as Archetype contains the first five volumes of The Empath as Archetype series by Elaine La Joie, including:
The Empath and the Archetypal Drama Triangle
The Empath and Shamanic Energy Work
Motivations of the Empath
The Empath and Shadow Work
The Empath and the Fan-Hero Family System
These books, written over seven years, are a compilation of case studies of Elaine's clients, and are now available in this collected edition.
Elaine begins with the Archetypal Drama Triangle, explaining the most common archetypal system humans can be caught in, but gives examples particular to empaths. She moves on to describing shamanic techniques including Soul Retrieval and Underworld Work, used in her practice to help her clients heal wounds common to empaths. Next comes a description of the most typical blindspots and faulty beliefs for empaths as described by the Enneagram Type Four and how to change to more productive beliefs and behaviors. In the final two volumes she explains particularly troublesome relationships in which empaths can become entangled, including the common family system that can produce the narcissistic personality.
The Empath as Archetype is available on Amazon.com.*
About Elaine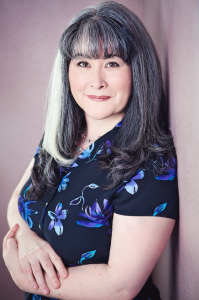 Elaine La Joie, shaman and certified life coach, has worked with empaths and highly sensitive intuitives for more than ten years. During that time she has helped empaths understand themselves and their relationships while using shamanic energy healing to resolve past traumas, including severe abuse. These books offer empaths insight into their relationship and into the hidden motivations of themselves and others so that they can understand their loved ones and create the lives they truly desire.
Please visit Elaine's website at https://secure.clearreflectioncoaching.com for more resources for empaths.

Enter to Win an Autographed Copy of The Empath as Archetype
Elaine has graciously offered to give away three autographed copies of her book to my readers. Leave a comment on the blog about one of your own writing lessons or something you learned from Elaine's insights before Friday, May 12th at 5 p.m. Pacific Time and you'll be entered in the random drawing. Please note, you must be located in the United States to win.
* This is an affiliate link, which means my Called to Write business receives a small commission from any purchases you make using this link, and which I deeply appreciate.