Ordinarily I recommend writing first and cleaning later. I stand by that today, too. Do your writing, then clean your writing desk.
But today is still a good day to clean your desk.
Here's why.
As Fall takes shape, you're likely to start experiencing that "back to school" energy we all usually start feeling around now. You're probably even be feeling it already.
If you're like me, you're might be right between that lazy summer-just-ended feeling and sensing the forces of Fall coming down the pike. My older boy just started school and I can tell that I'm about to get swept up in the wave of production that usually strikes around now.
But it's not quite here yet, at least not for me — today might actually be the first time I'm really starting to feel it as opposed to just knowing that it's coming.
Whether you're still in that in-between place, or ready to Get Moving, cleaning your space of the accumulated muck that's built up over the summer is a perfect way to transition into this productive phase and be ready to make the most of it.
For desk cleaning, here are a couple of tricks that work for me when I have limited time:
Triage the mess and sort it into what-goes-where piles. Hopefully a lot of it will go straight into the recycling bin. One of my favorite tricks from Miriam Ortiz Y Pino is to use a "Belongs Elsewhere" box that I can toss things into that belong elsewhere in the house but have snuck into my space over time (those evil little monsters!). 
Put away what you can right now.
Put the rest into a stack to sort later.
Clean the desk surface.
Behold the magnificence of your clear workspace.
Get back to the writing. :)
Over time, develop a system for the what-goes-where issues you discover as you clean and so the mess is less to deal with next time. (Miriam is great at helping with this. One of the best things about my office is that even though it's messy on top right now it's well organized underneath the chaos.)
And while you're cleaning, here's something to contemplate.
It's also a really good time to think about what you want to accomplish between now and the "end" of the year.
And let's be realistic about that for a moment, shall we? 
It's not really December 31st for most of us that marks the end of the year. Realistically, it's more like late November or early to mid December somethingth. Because Thanksgiving rolls around, the kids are out of school for a couple of days, then suddenly you're in holiday mode. And sure, you'll still get stuff done (I always do something special to mark the end of the year for my online Writer's Circle coaching program for instance), but let's face it, you'll also have one foot in holiday parties and shopping and the like.
(Unless maybe you're a true writer-hermit type, in which case you'll probably benefit from everyone else being so busy since you'll have all kinds of quiet time to yourself. :) ) 
So really, it's a great time to not only kick it into high gear with this back to school vibe, but it's also smart to think about what you're hoping to accomplish before 2015 rolls out like the tide.
You've got about three and a half months, give or take, before the holidays really start taking over the collective.
What are you aiming to accomplish before then?
While you're cleaning your desk, you call mull that one over and think about where you'd like to be at the "end" of the year.
And you'll have a nice, clear space to get to work in, too. :)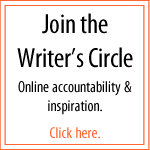 If you want to make the most of the coming months in terms of your writing, consider joining the Writer's Circle. One of my writers just today told me what a magical place it is for her. I couldn't agree more! Writers who've struggled for ages to write regularly find that if they commit to showing up daily in our online program, it doesn't take long before they are moving mountains with their words. Come join us. The next session starts on Monday, September 14th, and registration closes THIS THURSDAY (that's tomorrow). Find out more and register here: http://JustDoTheWriting.com