It's mid-January. If you "won" NaNoWriMo, you'll have 50,000 words of raw material for a new novel. If you didn't make it to the 50k mark, you'll still have pages to work with.
But now what?
Where do you start, in shaping your big block of marble into something with legs, something that works, something that's marketable?
Although many writers, already know this, it's worth stating: Under most circumstances, do not revise from the beginning to the end of your draft in order.
When you're working with a first draft, you first have to assess what you have before you start revising. At this stage, editing, polishing, proofreading, and wordsmithing are premature, unless you've written a near perfect draft, which is unlikely at this stage.
Unless you're a thoroughly seasoned writer (in which case you probably aren't doing NaNo), if you revise chronologically, you'll most likely find major structural and development issues in your story and end up cutting or substantively changing the work you've just spent hours editing, which can be heartbreaking and a big deterrent to getting to a truly final and finished product.
What you'll want to do instead is craft a revision plan. 
Here are 11 tips to get you started.
11 Tips for Revising Your NaNoWriMo Draft
1. Think of your NaNo draft as an "intuitive draft."
We've all seen and read the Hemingway quote, "The first draft of anything is sh*t," and while that can help us overcome our perfectionism and get something down, I've come to see labeling our first passes as a "sh*tty first draft" or a "vomit draft" does a disservice to this valuable and important stage of work.
The term "intuitive draft" is thanks to one of my screenwriting mentors, Corey Mandell. I love his notion of seeing a first rough draft as a window into the souls of our characters and the feeling tone of the story. It doesn't have to be perfect, but from it you gain valuable raw, fresh writing to guide your next steps.
Other names I like are "lightning draft" or "speed draft." While this isn't a hard and fast rule — you get to call it what you like, after all — I want to encourage you not to devalue your rough work but instead celebrate it as a valuable start.
2. And speaking of celebrating, did you?
And before you begin revising, celebrate! It's important to acknowledge the work you've done. In the long-haul of writing a long form novel, it's easy to feel overwhelmed by the work you have yet to do, and to dismiss or diminish or forget what you have already done.
I mean, dude (can I call you dude?), you just wrote 50,000 words! That's not nothing! So celebrate and reward yourself for the good work you've done.
3. At the same time, keep "finishing" in perspective.
I can't tell you how many first-time writers I've met who think their first draft is a finished book.
(Most non-writers think that's how it works, and is probably the source of that endlessly annoying conversation that starts with something like, "Are you still working on your book?")
But the truth is, unless you are a genius or meticulously plotted your draft from start to finish and wrote your draft in "pitch perfect authentic" form (another Corey term), this is first draft is essentially only that intuitive draft we were talking about, which means… the real work is about start.
4. Start by cataloging what you have.
One of my favorite and most beloved (if hard) steps from Rachel Aaron's 2k to 10k book is the notion of "reverse-outlining" your draft, where you note the primary story event for each scene, along with any other key tidbits of information, like POV and word count.
The idea is to capture what happens in each scene in one brief sentence in a spreadsheet or document so you can easily see what you have, at a glance. It's hard to grok what you're working with in full length form, so creating a reverse outline will help you get a good overview.
Since I write in Scrivener, I like to use the synopsis area to write my brief one sentence story event summary for each scene. Then I switch over to outliner mode and export the outliner contents as a comma separated values file (CSV) and import it into my favorite spreadsheet software (Numbers for Mac) so I can work with it further there.
Recommended resource: 2K to 10K by Rachel Aaron *
5. Then, do your macro story work, either again or now.
Now it's time to do the macro story work. Take a step back and look at the story as a whole. What kind of story are you trying to tell? What genre is it? What values are at stake? Are you meeting the conventions and obligatory scenes for your genre? Who are your characters? What are they trying to get or do? What's your premise line?
There are many tools you can use to answer these important macro questions. 
Over the last few years, I've become an ardent admirer of Shawn Coyne's book The Story Grid. His take on understanding genre and how it influences audience expectations has been groundbreaking for me. 
And lest you think he's prescribing dreaded formulaic writing, take another look. The brilliance of his work is that he clearly demonstrates what an audience will need to experience in order to feel satisfied by a story — but ALSO highlights the importance, and the difficulty, of a writer innovating on those conventions and scenes.
For example, if you've seen it, think about the "Lovers Break Up" scene in the movie Passengers. It's a perfect love story scene, in the sense that one character discovers a betrayal by the other. But the writer innovates on that "typical" scene in a totally unique way with incredibly high stakes (life or death). 
This piece of work is about stepping back and thinking about what story you're intending to tell and what the story needs to contain in order to work, in terms of story, plot, and character development. You can use The Story Grid and/or many of the other excellent tools available for helping you take that step back.
Recommended resources:
6. Review your desired story beats.
However you like to plot — or not, you pantser, you — now's the time. Write out your major plot points, not necessarily based on what's in your intuitive draft, but rather what you want them to be based on your macro story work.
I use a funny combination of plot points from working with ScreenwritingU.com, Chris Soth's Mini Movie Method, and Cathy Yardley's Rock Your Plot approach to identify my major overarching plot points:
Opening
Inciting Incident
End of Act I, Lock In, Plot Point #1
First Pinch Point
Midpoint
Second Pinch Point
End of Act II, Cave Moment/All Is Lost, Plot Point #2
Crisis
Climax
Resolution
I ALSO use Shawn Coyne's Beginning Hook, Middle Build, and Ending Payoff method, with each of those broken down into what he calls the 5 commandments of Inciting Incident, Complication, Crisis, Climax, Resolution. Yes, this is redundant. And, it helps me cross-check and make sure I'm not only building the plot across the entire story, but within each act (and ultimately each scene as well).
7. Write out your Revision To Do list.
Using your macro map of what you want to create, compare it to what you have cataloged. Very quickly you'll discover missing scenes and also where you're already on the mark.
Use this process to create your Revision To Do list (another tidbit from Rachel Aaron's 2k to 10k book) so you're clear on the steps you're going to take to revise.
At this stage, you're still looking at the big stuff rather than the fine details of individual scenes.
For example, you'll be identifying which scenes to cut, which scenes to add, what character or plot changes you'll need to make, etc.
(Tip: Once I'm doing this work, in addition to saving a copy of my intuitive draft, I also I make a "compost" folder in Scrivener for scenes and raw material I cut so I can refer back to them easily retrieve them to pull back into my new draft. Alternatively you can use "snapshots" in Scrivener to help with this.)
8. Decide what you'll tackle first.
Once you have your Revision To Do list, put it in order.
I recommend starting with the macro (biggest level) and then working your way down to the smaller stuff with your revision work.
If you're restructuring the story, start there. You might begin by deleting all the scenes you don't need any more (make a backup of the intuitive draft first) and insert placeholders for the new scenes, for example.
If you're changing specific characters, devise a strategy for tracking and changing their development through the story. 
9. Plan a timeline for your revision, if you like.
Optionally, you may want to plan a timeline for your revision.
This is usually most relevant when you a) have a deadline by which you either have to or want to finish by, and b) when you actually know what your writing pace is.
If you were tracking your time during NaNoWriMo, you probably have a sense of how much time it took you each day to hit your 1,667 word count. And if you know you have approximately, say, 20,000 additional new words to write for new scenes, based on your revision plan, you'll know approximately how much writing time you'll need.
On the other hand, you won't necessarily know how long it will take you to take each revision step, so you'll want to give yourself time and space to figure that out as you go along. Be aware that you'll be highly likely to stumble across various "black hole" sections in your work, as one of our Circle members calls them, where you'll end up spending many times longer than you expected, sorting them out. This is normal. :) 
10. Work with the smallest chunks possible.
Now that you've got your Revision To Do list and your timeline, you have a plan.
But you may still have a case of the heebie-jeebies facing all that work.
The trick here is to pick out the small chunks possible to work on. 
Even the macro work can be broken into smaller actions, such as backing up the first draft (I make a duplicate of my entire draft in Scrivener and label it 1.0, then label the new draft my 1.1 or 2.0 draft, depending on where I feel like I am in the process), cutting unneeded scenes from the first draft, putting in placeholders for the new scenes. Those are each small steps that can be taken, one by one.
If those are too big, make them smaller, e.g. cutting unneeded scenes from first act, or first section of the first act, for example.
The idea here is to craft your overall plan, and then forget about it while you focus on these day-to-day small steps. I call this willful blindness, and it's a lifesaver when dealing with a major revision. Sure, check in with the bigger plan from time to time to make sure you're on track, but in general, keep your focus on taking the smaller steps each day.
11. Get support.
Facing a rewrite can be daunting. (It's even harder when it's your fifth or seventh major revision.) I highly recommend getting a support system in place for yourself.
This is part of what we do in the Circle. You can also work one-on-one with a coach, join a critique or writer's group, or set up a buddy system where you're supporting a fellow writer and vice versa.
The important thing to have in place, in my opinion, is not just the practical support for staying accountable for doing the work of your writing, but also for the emotional journey. There are a lot of ups and downs and dark nights of the soul with rewriting, and you'll not want to be alone for those.  So do establish a support system for yourself. 
I wish you all the best with your revising!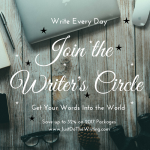 Get a whole year in the Circle for less than $100 per session.
Join the Called to Write Coaching Circle for the upcoming session starting on January 29th and save up to 32% depending on the package you choose. Registration closes Thursday, January 25th at Midnight Pacific Time.
Find out more and register here: http://justdothewriting.com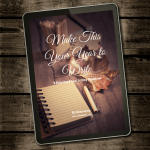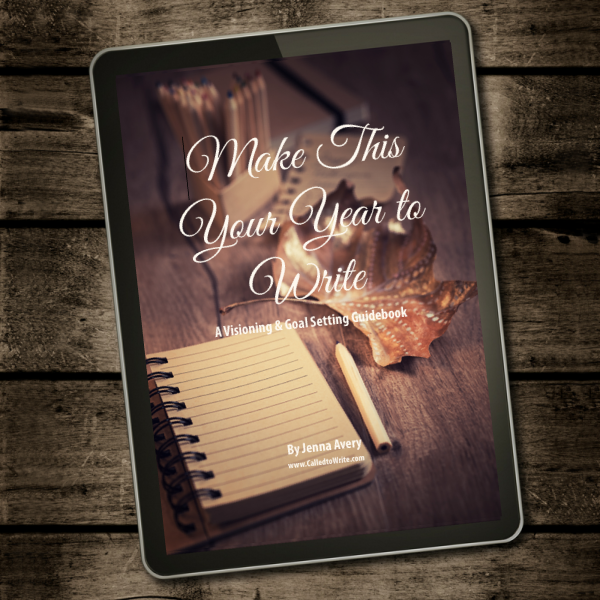 Make This Your Year to Write
Jenna's Visioning & Goal Setting Guidebook and Journal Prompts are now on sale!
Find out more and pick up your copy for only $17 here: 
https://calledtowrite.com/vision

* This is an affiliate link, which means Called to Write receives a small commission from any purchases you make using this link, and which we deeply appreciate.