The results are in!
A few weeks ago I posted a survey about Visionaries and received wonderful feedback. There were 299 responses.
Here's the note I sent out with the survey: "If you consider yourself a creative visionary, a leader, a world-transformer, or even someone with a passion for making the world a better place, I'd love to have your input."
1. What type of visionary are you?
Over 60% of you see yourselves as "Creative Visionaries" followed closely by over 57% who see yourselves as "Spiritual Visionaries." Since I sent my survey to my list of "highly sensitive souls," I'm not entirely surprised by the spiritual focus.
Granted that I've been focusing on "creative visionaries," I'm sure my results are skewed in that direction, but nonetheless, I'm interested in this response. :)
(Note: Click on the graphics for a larger view.)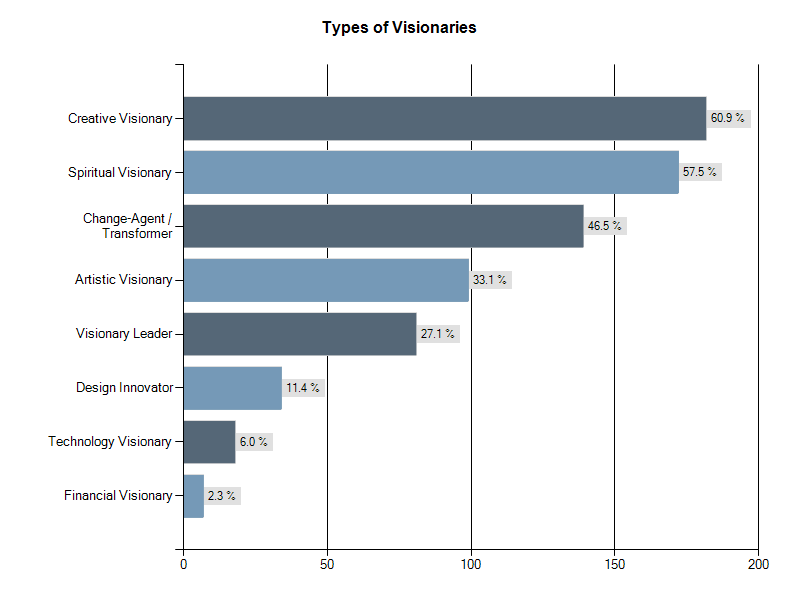 2. Which of these characteristics best describe you?
Then, I asked you to respond with the characteristics you feel best describe you as a visionary, and heard that most of you think of yourselves as "Creative, Outside-The-Box Thinkers" (over 58%), followed closely by "Big Picture Thinkers" (54%), "Transformers of Old Outdated Systems & Paradigms / Challengers of the Status Quo" (52%), and "Thought-Leaders/Forward Thinkers" (51%).
Lots of thinking going on here, which is particularly interesting in the context of the next question.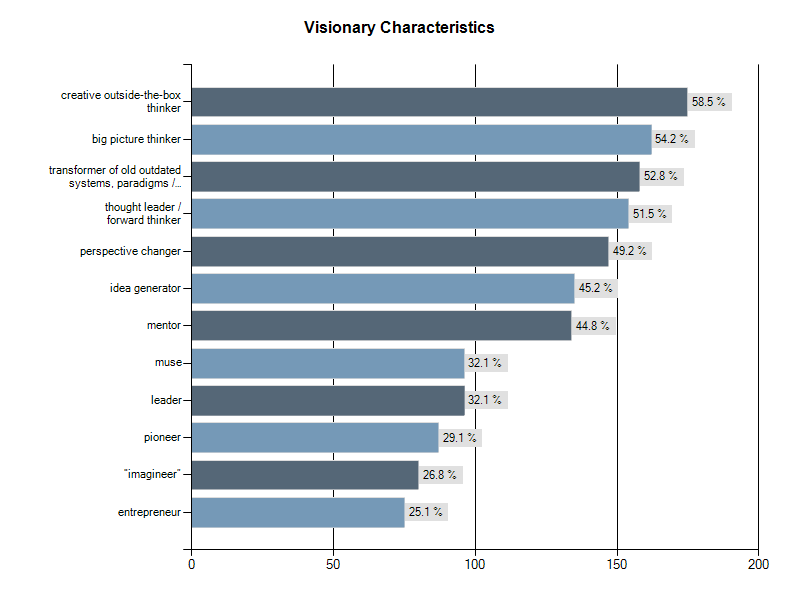 3. Which of these challenges have you struggled with?
Clearly the biggest issue was "Struggling With My Own Inner Critic" — over 70% of you selected that choice.
"Feeling Isolated and Alone" and "Not Having a Peer Group" were also top choices, as well as "Having Too Many Ideas and Not Knowing Where to Start" and "Not Having a Clear Vision But Knowing I'm Meant to Be Doing Something Big."
My sense is that much of the struggle with the inner critic and the many ideas have to do with getting stuck in our own thinking, not keeping our energy moving, and not being disciplined about choosing ideas to bring to fruition.
Other comments on this question included
"Not having good energy boundaries"
"Fear of jealousy"
"Needing a kick in the butt"
"The idea that creative work, such as writing poetry, is selfish. Also, nobody likes a showoff."
"Impatience and disbelief that others could not see what I could see"
"Not being taken seriously, 'heard'"
"I find myself staying weighted down with 'I don't have the right to be heard and noticed'"
"Doing what I want vs should causes mental anguish"
"Organizing life to write and making it a priority"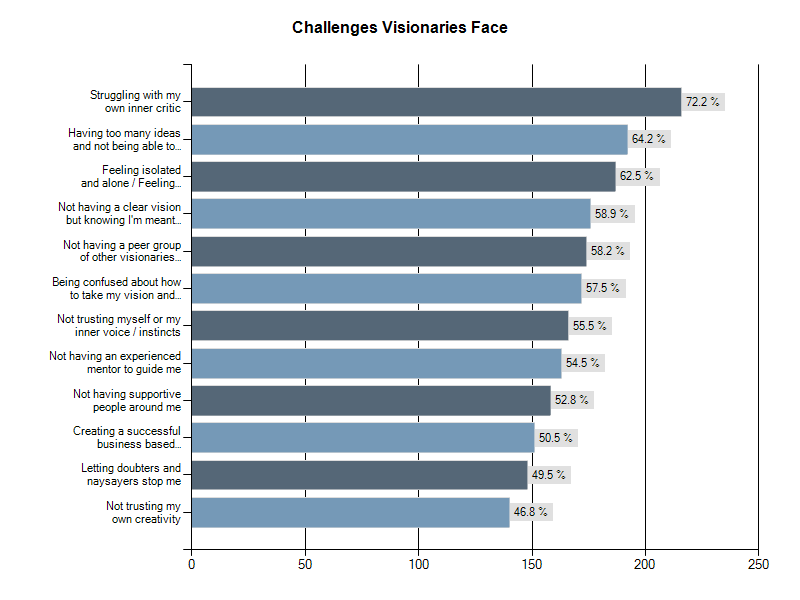 Thank you very much for your participation.
Your comments are welcome — what intrigues YOU about this? What do YOU notice?