Thank you for confirming your subscription and your interest in my free guide: "My Top 10 Favorite Writing Tools for Staying on Track and Writing Productively (Including My FAVORITE Low Cost App that Will Let You Write on Your iPhone!)" — and — Welcome!
You can download the guide by clicking on the image below or right-clicking and choosing "Save Link As" — or you can get it directly from this link: https://s3-us-west-2.amazonaws.com/writing-tools-guide/Writing-Tools-Guide-from-Jenna-Avery.pdf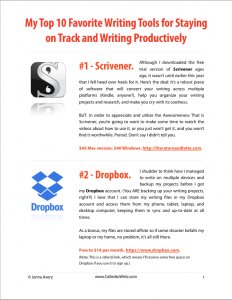 Coming soon to your inbox!
Keep your eye on your inbox, because you'll be receiving articles, tips, insights, and practical wisdom from me about making your writing actually happen. You'll know it's from me because it will say "Jenna Avery" in the sender field.
You'll also hear from me about upcoming programs I run for writers, including my Deep Dive Writing Intensives and my Writer's Coaching Circle program.
Before you go:
While you're here, you might also be interested in checking out some of my more popular articles:
And there's more! You can check out my Start Here page for a catalog of my best articles on writing too. 
Enjoy! And happy writing. :)
Warmly,