Spring is here! It's a great time to dig in to getting your book (or screenplay!) out into the world.
To help you take advantage of the spring energy, for the April session of the Called to Write Coaching Circle, we're running a New Member Special where you can save 50% on your first 28-day session in the Circle.
This is a great opportunity to get a jumpstart on building a lasting writing habit if you've been struggling to write regularly, and to get a first-hand sense of how the Circle works at a low introductory rate.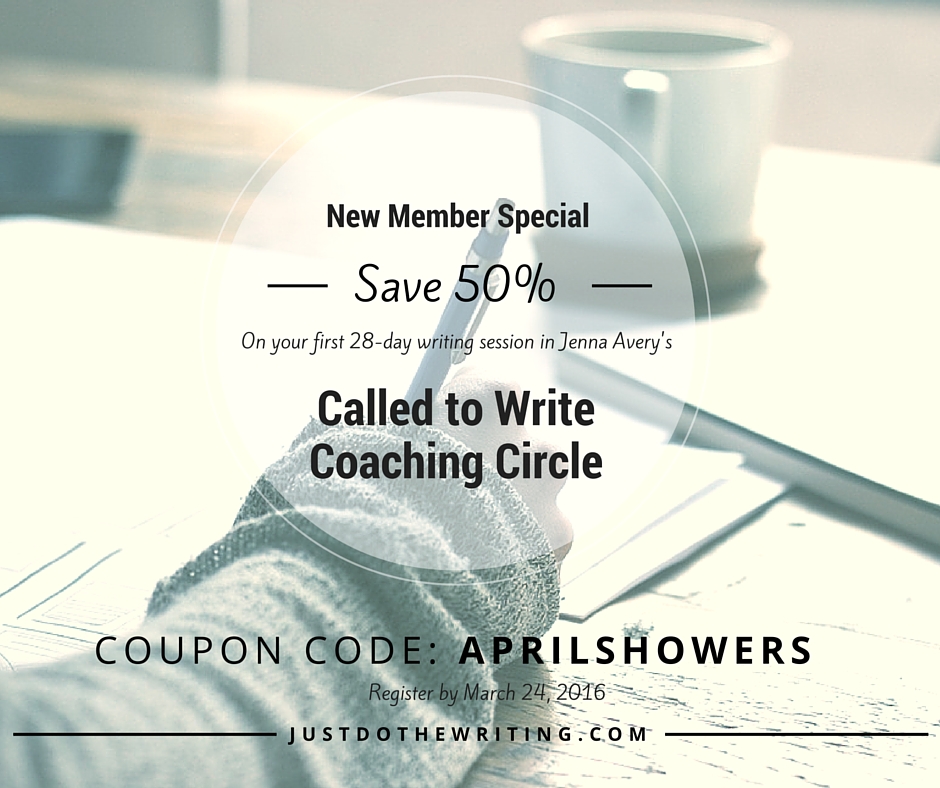 The Coaching Circle is unlike most other writing groups out there. We provide personal coaching in a small group and online setting with writers focused on the task at hand: Getting writing projects written — and finished. 
To take advantage of this new member special, go to JustDoTheWriting.com and select the Single Session Recurring Membership option, then enter the coupon code APRILSHOWERS at checkout. There's no obligation to continue beyond the first session. You may cancel at any time. 
Registration closes on Thursday, March 24th at 11:59 p.m. Pacific Time. The session starts this coming Monday, March 28th and runs for 28 days. 
Join us!
[otw_shortcode_button href="http://justdothewriting.com" size="large" bgcolor="#006666″ shape="square" text_color="#ffffff"]Register for the Circle Here[/otw_shortcode_button]
Notes:
This offer is applicable for new members only and only for the Single Session recurring option. If you're a current or returning member, please contact us with any questions about this offer.

There is no obligation to continue beyond the first session, though we expect you'll want to do so once you have a chance to experience how powerful the Circle is at helping you write regularly. If you choose to cancel, you must do so by the last Thursday of the session. We send an email reminder the Sunday beforehand.

All other billing and cancellation terms as detailed on the registration page for the program apply to this special offer as well.