I've been giving a lot of thought lately to enjoying my life more.
Part of my Life Purpose is to be a Lover of Life — a Venusian goddess of fun, play, delight and savoring. Not something that comes naturally to me.
Instead, I'm more of an all work and no play kind of girl. I easily fall into a more "masculine" approach to my life and my business: I've inherited a strong delayed gratification mentality. I push myself hard to get to the outcome I want, delaying rewards. I'm better (there's always more) at not neglecting the self-care the way I used to, but I don't get around to the really fun, delicious, Life Savoring that I want to be enjoying. At least not until recently.
In part because of my work with my Artist's Way Accountability and Support Group and in part because of my own calling in this direction, I've been paying close attention to spending my precious time wisely in work or at play.
Here's what I've been putting my focus on, and I'd love to hear how you're inspired by this and how you decide to use your precious time:
1. Enjoying what I'm actually doing, no matter how simple or mundane.
As an Enneagram Four, it's all too easy for me to get all dramatic about doing "special" things (you know, grand sweeping gestures and the like) and to poo-poo the ordinary and the mundane.
But those seemingly "little" moments are what add up to the beauty of life — watching my son run around with other kids on the lawn. Folding laundry while listening to my husband read to our little guy. Snuggling up watching a movie together. You know.
2. Prioritizing "Real" Life activities.
As a creative entrepreneur who operates largely in the virtual world (blogging and writing on my computer, speaking with clients by phone or Skype), I'm making a point to emphasize more Real Life experiences too, like spending time in the garden with my hands in the rich soil, creating community experiences in our neighborhood like the fabulous progressive dinner we had over the weekend, or simply sitting in the sunshine on my front porch while holding coaching calls.
3. Turning off the virtual world.
I'm also making a point to unplug more from the iTouch, Twitter, Facebook, and my computer. They are seductively engaging, but I find my time swirling away from me into a vortex of web searches and information indulgences.
4. Taking small daily steps to move me towards my Big Dream rather than looking for single massive actions.
This is a big pitfall for me — I look for giant blocks of time to do one project, but then never QUITE get around to it. I'm learning to take "turtle steps," as Martha Beck trained coach Jill Winski calls them, consistently. And consistently again.
I received a reminder of this on Twitter via @AdviceToWriters over the weekend from Anthony Trollope (a 19th century novelist):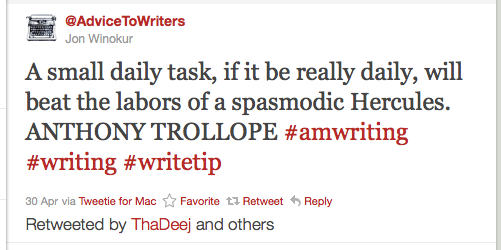 For me, this includes taking small steps to take care of the business of living, like keeping up with my book keeping and paperwork, as well as the business of living my Life Purpose. That way, I don't get overwhelmed and feel unable to keep moving ahead with my Big Dream.
5. Choosing a grounded approach.
There's a lot of conversation around integrating the masculine with the feminine. About being goddesses in our own lives. I agree.
I think it's also about being grounded in remembering what really matters. For me, that is my inner sense of well-being, my connection with my son, my relationship with my husband, my connections with the communities of people I care about, and fulfilling my Big Dream.
Despite what my mind and ego like to say to the contrary about achieving my Big Dream, it's not ONLY about "making it happen" or "getting it done." I want to ENJOY my life along the way, have FUN while I'm doing it, no matter what my current circumstances are — no matter how much money I have or don't have, no matter how much sleep I'm getting or not getting, no matter how many clients I have or don't have, etc., etc., ad nauseum.
How are you spending your precious time?
I'd love it if you'd share with me the most powerful way this article has inspired you to think about enjoying YOUR precious time.


~> May 3rd, 2011. My Artist's Way Accountability & Support Group continues. Details.
~>June 9th, 16th, and 23rd, 2011. Mark your calendar! My brand new Life Purpose Breakthrough Group event series for getting you back on track with what you were put here to do will be happening on June 9th, 16th, and 23rd — only 4 spots available in each group. Find out more here. Three groups are available: Intuition & Inner Wisdom, Creativity and Big Vision. Which one is yours?
~>May 26th to May 28th, 2011. Attending Andrea J. Lee's Wealthy Thought Leader event via simulcast.
~>May 28th, 2011. Next broadcast of my Dreamification Radio show on Radio Lightworker. Details. Listen from anywhere in the world to this Internet radio show.