It's December, the end of the year. In a continuation of my goal to help you Start 2017 Off Write, I thought you might like to meet some of my Called to Write Coaching Circle members and get a look inside their writing lives. We'll kick off this series with Rebecca Brams, a local Berkeley writer and longtime Circle member.
Meet Rebecca Brams: Mama, Grant Writer, & Novelist
Rebecca is a Berkeley mom of two boys (we have both of those in common!) and she's writing a novel alongside parenting and the grant writing work she does. She has been a Circle member for three years. I invited Rebecca to tell us more about her writing and her writing life. 
What kind of writing do you do, and where are you in your process?
I do several different types of writing, including grant writing for non-profit clients, personal essay, short fiction and blog. I mainly use the Writer's Circle for my novel work — I'm writing a trilogy of historical fiction novels set during the Inca Empire, in what is today Peru. Since I joined the Writer's Circle three years ago, I've written a draft of the first book in the trilogy and put it through a story analysis process including reverse outlining and mapping. I used two story analysis methodologies: Save the Cat and The Story Grid. I'm now partway through revising the novel. (If you're curious about the novel trilogy, you can learn more about it in an essay Rebecca published here.)
How has your writing practice changed since you've been in the Circle?
I've become much more productive and stay on track more easily. I've been part of different kinds of writing communities over the years, including when I got my MFA degree, and I've found different types of value in each experience. The Circle is unique because of the daily check-in and because of the focus on process, not content. I know that if I get stuck, my coach will offer me a different perspective, and I often use the coaching calls to help me work through issues that come up. Being in the Circle makes me feel like I'm part of a writing community that's "got my back" and will help get me back on track when I become overwhelmed or lose focus.
What have you learned about yourself as a writer?
I've learned to trust the ebb and flow of the creative process. Recording my progress on a daily basis (and seeing my fellow Circle members do the same) has shown me that I can have a fabulous writing day, followed by a humdrum day, and then get back into the flow again in my next writing session. Now when I have a tough day or hit one of those "stuck" spells, I worry less because I've realized it's a normal part of the creative process.
Also: This is life. This is it. Every day we create it with our choices. Every day we choose to write even though urgent things are calling us, we honor our creativity, the Muse, and the unique voices that can only speak through us. Every day we choose to be gentle with ourselves, we create a life of compassion and peace. These two elements can feel in opposition to each other, but perhaps allowing for the coexistence of opposing forces is necessary for a rich artistic life.
How much do you write and where do you typically write?
I try to write early in the day, usually right after I drop my kids off at school, before lots of other to-dos pop up. That probably happens three to five days per week, depending on whether there are school holidays, my husband's work travel schedule, or if I have a lot of client work. I usually work at home, but sometimes I mix it up by going to a café. About once a week, I go to an in-person writing group.
When I'm at home, I often work at my secretary desk in my bedroom, but when I'm deep into line-edit revisions, I find I work better sitting in bed or on the sofa — it gets me more into the mindset of a reader. When I'm strapped for time and trying to get in a sliver of writing, I will sometimes even write in my car. My coach has called me a "time-stealing ninja" for the different ways I've managed to slide writing into a busy schedule over the years.
What does a successful writing day look like for you?
It used to be that 15 minutes a day was all I tried for. Now my minute goals range a lot more depending on what else is happening in my life. I'd love to work for an hour a day or more, but there are so many different elements in my life that it really depends. Locking myself into a rigid schedule tends to lead to stress and guilt. I try for consistency and keeping up momentum more than getting the same amount of time in every day. And I do writing retreats — often solo weekend retreats — to immerse myself and get in big chunks of time.
What's next for you with your writing?
My big writing goal for 2017 is to finish the second draft of the first book by the beginning of the summer when my kids get off school. It'll be a stretch, but I'm going to give it my best shot with the help of the Circle.
Circle Profile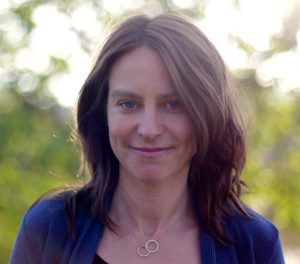 Name: Rebecca Brams
Roles: Grant writer, novelist, blogger, essayist, mother of two boys
Location: Berkeley, California
Genre: Historical fiction
Current writing goal: Finish second draft of novel by June 2017
Biggest writing challenge: Juggling priorities, the unpredictability of young children
Biggest writing ah-ha: Starting is almost always the hardest part.
Go-to writing platform: Scrivener
Favorite writing spot: In bed!
Bio: Rebecca Brams is a writer and mother to two young boys in Berkeley, California. She grew up in California's Mojave Desert and has traveled extensively in Latin America. She has a B.A. in Anthropology from Stanford University and an M.F.A. in Creative Writing from St. Mary's College of California. Her fiction and creative nonfiction have been published in Carve Magazine, Literary Mama, Dark Matter: Women Witnessing and on blogs, including her own, www.thismamawrites.com.

Join the Circle: Get Your Words Into the World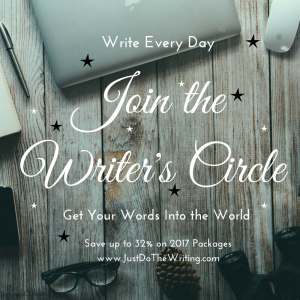 Join us in the Circle and get daily accountability and support to make your writing happen. With our special end of the year savings, you can get a whole year in the Circle for less than $100 per session.
It's the perfect time to join us — our next session begins on Monday, January 2nd so you can start off the new year "write"!
Registration closes on Thursday, December 29th. Find out more and register here.