I've been sick too much this year, and thought it worth revisiting one of my favorite articles from 2013 on "when to write and when to call it a day." Here's an updated version for you:
During a live coaching call for my Called to Write community, a writer once asked about how to know when to push through and write if you're not feeling well versus how to know when to focus on regaining your well-being.
In my opinion, the answer depends a bit on the circumstances, so let's look at some specific scenarios.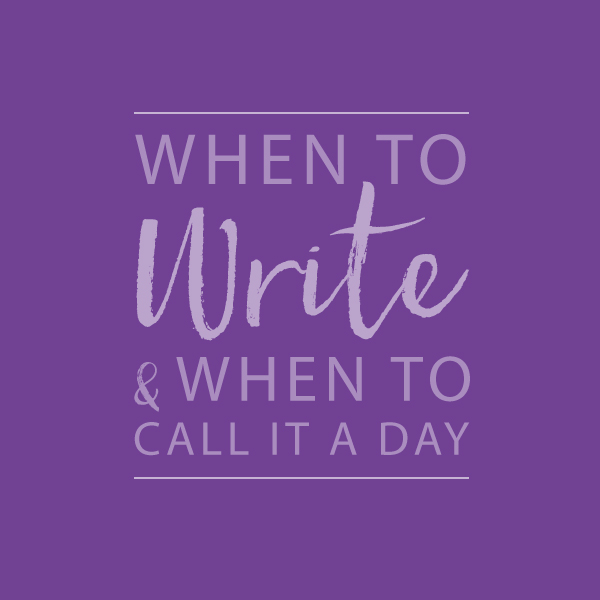 1. You've just come down with a wicked cold or flu.
Assuming you have a solid, regular habit in place, when you get really sick or you're just those early stages of wretchedness, it's okay to take a few days off from writing, knowing that you'll get back to it as quickly as you can.
When I'm feverish, wiped out, or worse, I know the most important thing I can do for my body is to rest and heal.
I have found myself writing even while sick at times — because I felt truly drawn to work on my piece — but in this case my focus is very much about listening to my body.
This is very much like being an athlete, and knowing whether or if to train when you're sick or injured, and when to take a day off.
I also trust myself enough deep down, after months of regular writing, to know that I'll re-establish my habit as soon as I am able, usually within 2 to 3 days. The longer you're away from your habit, the harder it is to get going again, so it will behoove you to pay attention to starting again quickly, even if you start small, such as in 15 minutes a day.
2. You're going through a rough patch in your life, you're generally tired or run down, maybe you're not sleeping very well, or maybe you're mildly sick.
On the other hand, if the chips are down and you're having a rough time in your life, maybe you aren't sleeping well, or maybe you're getting better from that wicked cold or flu, I'm inclined to recommend that you simply ease up on your writing time a bit, but still keep writing. When I've gone through particularly difficult phases in my personal life, I've made a point NOT to stop writing, but to carry on at my "rock bottom minimum" level of writing.
As a writer, it's worth knowing what that minimal level of involvement is with your work for you — the amount of writing that will keep you engaged and connected to the work. For me, it's a minimum of 15 minutes of writing a day, even if it's morning pages just to keep writing flowing, though ideally it's on my main project. For another writer, it might be 5 minutes or 60 minutes. It varies between individuals, but the point is, know what YOU need to do to sustain your connection to the work even during a challenging phase.
I gained tremendous confidence and strength from seeing myself commit to and show up for doing the work every day, no matter what.
In concert with easing back to your minimum, when you're going through a phase like this, make a point to ramp up your self-care. Put sleep, healthy food, good hydration, fresh air, and exercise at the top of your list and get yourself back into balance. But do stay connected to the work.
3. You're in a bad mood or someone said something terrible to you and your confidence is shaken.
A common refrain among writers — particularly those of us who are more sensitive and easily affected by other people and experiences — is "I'm just not in the right mood to write today." This can particularly come up if you've lost confidence because of something someone said about your writing or if you've been hooked by the Comparison Monster ("Everyone else is doing so much better at this than I am!"), or even if you're just in a crummy mood.
Hear this now: There's a difference between self-care and mood.
Being in a bad mood is NOT a good reason not to write.
Let's face it, you wouldn't be here, right now reading this, if writing was easy to do.
As Steven Pressfield says, "It's not the writing part that's hard. What's hard is sitting down to write."
Don't let a bad mood or a rough day become an excuse not to write.
There are far too many reasons to resist and procrastinate about writing, and if anything, I think we need to err on the side of writing more regularly and consistently than not.
As Brian Johnson says (via Jack Canfield), "99% is a bitch. 100% is a breeze." So hang in there, do the work, and make it easier on yourself. (A side note: A weekdays-only practice at 100% works.)
You'll most likely be pleasantly surprised that your level of productivity and your ability to create are not at all related to your mood.
In fact, you may find — as many of our Called to Write members do — that your mood may well shift when you write anyway, and if even if it doesn't, you'll still have demonstrated your commitment to yourself, which is deeply affirming and happiness-building.
(See also my post called "You Can Change Your Life in a Split Second.")
4. You're going through a painful period of loss, grief, or personal anguish.
At another end of the spectrum is experiencing an extreme loss — like a death of a loved one. When my grandmother died in 2012, I felt as though I was in another world — approaching the veil of life and death on some level — and I found it very difficult to write fiction in yet an entirely different world. So I choose to take a few days off from "real" writing, though I did do a tiny bit of tinkering with my script one day.
On the other hand, Steven Pressfield recommends writing even during times of "personal anguish" in his excellent post of the same title.
He says, "I'm not saying pain is good. I'm not advocating screwing up our lives for the sake of art. I'm just making the observation that our genius is not us. It can't be hurt like we can. Its heart can't be broken. It's going to send the next trolley down the track whether we like it or not."
My experience is that those few brief days of being between worlds while in grief are the only spans of time in which I have felt truly unable to write, and then, just as I've said above, I still get back to writing as quickly as possible.
5. You need to refill your creative well.
All this said, I am a firm believer in taking big "put my feet up" days off. I love to pick out a day on my calendar when I can feel the need building up, that I block off "just for me." I take my son to school, and then proceed to do whatever I feel like doing, which usually involves some combination of a fantastic herbal or decaf beverage, a movie in bed, a nap, maybe a meal at a favorite restaurant. It might also involve going shopping at a beloved and inspiring store, like an art store or museum shop. Whatever it is that feels inspiring and uplifting.
On these days, I fully, completely enjoy my Not Writing time, and I know I'm replenishing and rebuilding to dive back in the next day.
Your Turn
The bottom line, for me, is that each one of us needs to experiment, listen to our own bodies and inner selves, and find what works best for us. And, like I said, given the massive opportunities for resistance, fear, avoidance, procrastination, and self-doubt, my strong recommendation is to find a way to stick to your work as regularly and consistently as possible. What do you think? What works for you? Leave me a note in the comments.
Warmly,

You may also be interested in:
This article was originally published in January 2013 and has now been republished with revisions.