For your Christmas reading pleasure, today we're continuing my "This Writer's Life" series, in which you get to meet some of my Called to Write Coaching Circle members and take a look inside their writing lives.
Hopefully the holiday fervor has died down for you now, if you celebrate Christmas, and you'll have a few quiet minutes to read about this inspiring writer, Rick, a Swedish businessman and historical thriller writer who recently completed a major novel revision … in the dawn hours. 
Meet Rikard Bergquist: A Swedish CIO and Historical Thriller Writer
Rikard, whom we fondly call "Rick," has been with the Circle since 2012. Rick is a constant with our group — always writing, never giving up, even through the ups and downs of a major novel revision. He's just finished his 8th revision and is getting ready to submit his novel to agents after getting some final feedback from his story coach.
You may remember Rick from an earlier guest post when he finished the first draft of his novel after jump-starting his writing habit with five minutes of daily writing. When he joined us he lived in Sweden, but has now moved to Reno, Nevada, where he is working as the CIO of a Swedish startup, raising his family, and writing.
To say that I am gratified by and proud of his achievement is an understatement. Having written alongside Rick for these last four years has been a true gift. It's so easy when we see people reaching major milestones like this and to compare ourselves to them. But when we are right there with them in the trenches, seeing all the challenges, the highs, and the lows, it's just a giant celebration for all of us to see him being ready to start submitting his completed manuscript to agents.
What kind of writing do you do, and where are you in your process?
When I write it's mainly fiction but I also do business plans, research grants and business presentations. However, when I refer to writing it is my creative endeavors that I think of. Right now I'm putting the final touches to an historical thriller set in Sweden in the 16th century I've been working on for the last five years. I used Storyfix, The Story Grid, and the services of a professional reader in my revision process.
How has your writing practice changed since you joined the Circle?
The Circle taught me about the importance of process and how you can trust that process even when you don't know where you are or where you're going with your writing. Keep on writing and roll with resistance. Nearing the finishing of my manuscript I've been close to calling it quits a couple of times, but the Circle has gently nudged me forward and pulled me back in. This last year it's been my happy place when I've struggled with the writing. I also feel that Jenna has a set of very hands-on tools to enable me to see through the despair for what it is, handle my resistance, and keep me on track.
What have you learned about yourself as a writer?
Writing is a lonely business and I need my efforts to be seen. Even if not one single person reads my novel, I need someone to share the ups and downs of getting it done with. The Circle provides just that perfect environment of learning about yourself in likeminded company. I've learned that writing for just five minutes in a day, isn't so much about the progress that day, as it is about overcoming the resistance. That is the real achievement and that positive feeling feeds on itself until you're suddenly writing two hours a day. That's magic.
Where do you typically write?
I have several places I write in. I feel most comfortable in the places where I can feel undisturbed. I need to be able to shut the world out and go inside of myself. That can be in a café, at my desk a couple of hours before everyone arrives at work, or in the study at home when it's empty. For some reason I tend to go to busy cafés, where I can look up now and then, and remember that there's another world waiting for me out there when I'm done.
What does a successful writing day look like for you?
I like to start early, early — preferably in the dark — and write through dawn. Get my hours in before the rest of the world wakes up. Spending the first hours of the day on writing, gives my a sense of accomplishment and I can hit the rest of the day with a smile on my face. I feel like I've put what's most important to me first.
What's next for you with your writing?
I'm currently outlining part two in my historical trilogy and I hope to have a first draft ready in six months. The big challenge will be going back to first draft mode, after being in the finishing touches phase for the last year. It won't be long before I miss having a full chapter to revise instead of a empty page to fill. I hope the Circle is ready to roll with my ups and downs once again. (We are, Rick!)
Circle Profile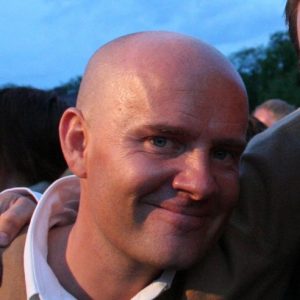 Name: Rikard Bergquist
Roles: Writer, CIO in the healthcare industry, father of two girls, skier, hiker.
Location: Reno, Nevada
Genre: Historical thrillers
Current writing goal: Finish first draft of second book in a trilogy before July 2017
Biggest writing challenge: Not falling into a chasm of despair by looking at how far I am from my goal
Biggest writing ah-ha: Stay connected every day with your writing, even for five minutes, this will keep your subconscious in gear to write your story for you.
Go-to writing platform: Scrivener, Word
Favorite writing spot: Early morning, with a coffee, at a back table in a café
Bio: Rikard Bergquist is a historical fiction novelist from Sweden living in Reno, Nevada, who writes in the mornings and works as CIO for a healthcare start-up in the day. He loves the outdoor life and snow of the Sierra, where he fills his creative well skiing and hiking together with his wife and two girls.

Join the Circle: Get Your Words Into the World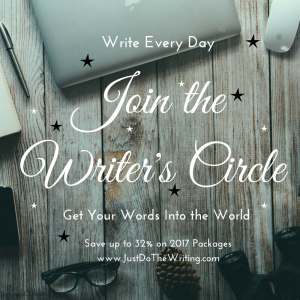 Join us in the Circle and get daily accountability and support to make your writing happen. With our special end of the year savings, you can get a whole year in the Circle for less than $100 per session.
It's the perfect time to join us — our next session begins on Monday, January 2nd so you can start off the new year "write"!
Registration closes on Thursday, December 29th. Find out more and join the Circle here.