Welcome to the next installment of my "Ask the Coach" column on Script Mag!
This month's question is specifically about finishing, and when — or if — to give up on a project:
"How can I deal with the indecision that comes with looking at what I'm writing and reaching a point at which I say, "I never should have started this in the first place — no one will care about this, this is unoriginal, this has no chance of selling, what was I thinking?" I don't see a point at continuing and then go on to the next potentially shiny object. Very frustrating and totally within my control. What do you recommend?"
Great question! In order to help you answer it, I have some questions for you.
"The first thing to consider is whether or not this inner voice speaking up is the voice of resistance, or the voice of intuition."
For my four questions to consider and my full answer,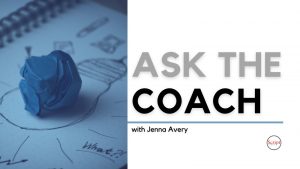 If you've got writing questions, please send them my way!
I'd love to answer them for you in my column.