Ugh. Procrastination.
We're all familiar with that simultaneous desire to write and the repulsion from writing that leads us into the nether realm of procrastination. We're doing something else — ANYTHING else — and it can range from feeling like we're doing something vitally important to just plain old digging our heels in and resisting.
Sometimes we tell ourselves we need to "warm up" first before we can write, with a little email, Facebook, or even a treat of some kind.
Or we decide we simply cannot tolerate the state of our physical space for a single minute longer — how many offices, bathrooms, and kitchens have seen the plus side of procrastination on a day when writing feels oh-so-hard to do?
Other things come up too, right? All those urgent deadlines, other people's problems, our kids' needs, that bit of online research you just can't wait to do (you know, that one that snowballs into two hours of online nothingness — and yes, I speak from experience), or even bigger things, like that college degree you suddenly have to have.
Understanding procrastination
There are a few of key things to understand about procrastination:
1. It's (usually) driven by fear. There's some kind of fear coming up that's stopping you from writing. You may not be clear on what it is, but trust me, it's there. Fears of success, failure, commitment, overwhelm, rejection, praise, inability to deliver, etc. are most likely to come up. (When it's not fear-driven, there's usually something significant going on, like healing from a traumatic creative wound or recovering from creative burnout, but I would call that a block, a subject for a future post.)
2. Not taking action on your writing will keep you in a low grade state of anxiety, guilt, and shame. I say "low" but it can skyrocket into a full-on painful squirming-in-shame. So even if you're pretending you are just watching your favorite TV show for a little treat before you get started and that it will help you relax into writing — check in with yourself — are you really, truly, in your heart-of-heart's feeling relaxed? Or are you twitching with unrest and discomfort inside?
3. It's a lot easier to fix than you think it is. There are some days when it simply isn't possible to sit down and power through tons of writing. That's okay. There are days when you can't face your draft. That's okay. But you CAN write, even if it's just for a few minutes.
And ultimately, making small moves will help you beat procrastination in the big picture.
Beating procrastination
Here are seven ways you can beat procrastination and get back in the writing saddle:
1. Have a short but honest talk with yourself about what's really going on. This doesn't have to be a big deal. But it's worth acknowledging in the privacy of your own mind, "Yes, I'm procrastinating, and it feels crummy. I'm going to do something about it."
2. Tell someone what you're doing. Find an accountability partner, a writing buddy, or a writing group (like my online Writer's Circle) that will help you commit to doing the writing and seeing it through. It helps tremendously to say to another person (even if it's your spouse or best friend!), "I'm going to write today no matter what."
3. Make a deal with yourself to write ANYTHING for 15 minutes. I don't care if you write morning pages, a list of all the reasons you hate writing, or actually work on your current writing project. Just get out a piece of paper or open your Scrivener file or Word document (I'm a Pages girl myself), and put words on the page, even if they are crap. (Using a timer for your 15 minutes is a special bonus tip – it's like pressing the "GO" button. Try it!)
4. If 15 minutes feels like too much, make it smaller. The goal should be small enough that you find yourself saying, "Well, heck, I can at least do THAT much." So if 15 minutes sounds daunting, do five. Or write ONE sentence (I'm not kidding). The key here is to get yourself into action WRITING. Period.
5. If you've racked up a lot of frequent procrastinator miles, STOP when you meet your goal. There are a LOT of writers I talk to who commit to write for 15 minutes, do it, and then find it so easy they keep on going. That's great, if you're just jump-starting yourself after a day or two away. But if you've been in the writing desert and the words have been few and far between, when you meet your writing goal for the day, stop and celebrate. Don't break trust with yourself and keep on writing — you'll only set yourself up for a bigger challenge tomorrow when you feel like you have to "do better" and suddenly have too daunting a goal to face. 
6. Reward yourself for writing. One of my favorite writers, writer-director Joss Whedon (Firefly, Buffy, The Avengers), rewards himself just for having an idea. Don't be stingy here. Writing each day is the equivalent of beating back the forces of darkness. You deserve to whoop it up a little once you pull it off. Give yourself a piece of chocolate, a stretch in the sunshine, or even those things you'd normally be procrastinating with. Remember the email, Facebook, and favorite TV shows? Make those your cool downs instead of your warm ups and you'll be good to go.
7. Do it again tomorrow! You've beaten procrastination today, great work!! Now, when you wake up tomorrow, use these tools to make a shorter path to writing. It'll feel great. Then once you get on a roll, start building up to more over time.
Thanks for reading!
I'd love to hear your thoughts in the comments.
Warmly,

There's no right time to write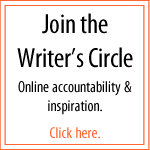 We often trick ourselves into thinking there's a "right" time to write. We plan special writing days. We dream of far-off futures where we'll have plenty of time to write. But there really isn't a "right" time — there's only now. Join the next Writer's Circle session (new sessions start every 28 days) and get help to beat procrastination and write every day.
Find out more and register here: http://JustDoTheWriting.com