Let's talk about writing. And overwhelm.
First, a story. 
When I was a kid, my parents used to take us on high Sierra backpacking trips. They were hard. We're talking about high-altitude, have to hit 10,000 feet before you get to the lake kind of hard. With backpacks. On super steep trails. In the blazing sun. I was also prone to altitude sickness, so there wasn't a lot of incentive to go higher, other than the incredible beauty of the alpine lakes and the satisfaction we had once we reached our destination. 
Which was actually a hell of an incentive. 
Every summer my sister and I would slog up the steep trails, managing the weight of our packs on our sore shoulders, the blisters forming on our feet, the headaches creeping in, the tiredness, and the whininess that would sneak into our voices. My dad always brought up the rear, even though he was the fastest and strongest hiker. 
In every trip, there were always points along the way where I begged to stop. I'd despair that we'd ever get there. My dad was my coach at those times. Giving up wasn't an option. He was always patient, calm, and quiet. He'd just wait with me until I was ready to get up and keep going. 
He'd say, "Just keep putting one foot in front of the other. Don't think about how far it is to the top. Just look at the trail right in front of you, and focus on getting to the next bend in the trail. Then the next, and the next."
And bit by bit, we'd get there.
Overwhelm In Writing
As writers, we often hear the line from E.L. Doctorow, "Writing is like driving at night in the fog. You can only see as far as your headlights, but you can make the whole trip that way."
Usually this quote is used to describe the process of figuring out a story and how we find our way through it, bit by bit. But we can also use it to describe and understand the entire process of writing, from first draft, to rewrite(s), to publication, and to marketing, including dealing with any and all overwhelm at each of those stages. 
When we're writing, the big gap between here (where you are right now) and there (where want to end up — done! finished! published!) can feel pretty darned overwhelming. So overwhelming, in fact, that you might be wondering if you're even capable of making it. 
Underlying Causes & Solutions for Addressing Overwhelm  
Let's dig a little deeper into where you might be feeling overwhelmed, and then look at some solutions to help you find your way through.
6 Underlying Causes of  Writing Overwhelm
When you're feeling overwhelmed, no matter what stage of writing you're in, here's what might really be going on:
There's so much left to do, and it really is overwhelming. Writing a book is a long haul project. So is a screenplay, when you consider the many drafts a script often goes through before it's produceable and marketable. There's a ton of work left to do, and it's easy to feel disheartened when staring up the face of the enormous mountain you're attempting to scale. (Hint: You're looking at the mountain, not the trail.) 
You're scared to put yourself out there. Writing a book can trigger self-doubts, fears, procrastination, perfectionism, and resistance. When you're conscious of it, you can feel overwhelmed by the enormity and responsibility of it all. When you're less conscious of it, you can get stuck in writing overwhelm as a kind of "safe haven." It can feel easier to go around in circles than to take the risk of fulfilling your big dream. 
You're doubting that you're up to the challenge. Hand-in-hand with #1, above, you might not even feel sure you have what it takes to write at the level required to succeed. You might be losing confidence in yourself, your book, and your ability to write. If you're in this place you may be so overwhelmed that you're considering giving up on your book, or worse, giving up on writing altogether. This is the kind of overwhelm that comes from a crisis of confidence. 
You've lost your way. Sometimes you can end up feeling lost, like you're not sure how to solve the story problems you're facing (or even to figure out what the problems truly are), or you're overwhelmed with a sheer quantity of content and disorganization, and you can end up going around in circles, feeling paralyzed, dazed, and confused. The fear here is that you'll never find your way.
It feels like you're running out of time. Many of us have this ticking clock inside our heads about when it's okay and when it's too late to "arrive" on the scene with our finished books. The fear here is that it's too late for you, which creates a sense of overwhelm around trying to fit way too much into too little time.
You're feeling overwhelmed by life, too. We're busy. All of us. Our culture, our world, and our lifestyles seem to be busier than ever and only getting worse. Finding time to write seems darned near impossible when you're juggling a job, kids, friends, pets, family, spouses, and more. The fear here is that you don't have the time and space in your life to actually pull off making time to write, which again leaves you feeling overwhelmed.
6 Solutions for Moving Past Overwhelm and Into Action
Here are six solutions to help you overcome the overwhelm and move into action with your writing.
Keep putting one foot in front of the other, just like my dad taught me. The most basic antidote for overwhelm is to take the smallest possible steps, one by one, to move through it. This means making a plan for how you'll approach your writing (or rewriting), and working on it in the smallest possible pieces until it's done. In fact, the more resistance, fear, or doubt, you're feeling, the smaller the chunk you'll want to work on (even if you spend all day working on small pieces). If you keep your focus on the next step right in front of you, you can get through to the end.
Get mad. Resistance is a smothering force. It paralyzes you and bogs you down, until you begin to feel hopeless and like you'll never succeed. Anger, on the other hand, holds the powerful energy of action. When resistance gets you down, get mad. Use the energy of being a little (or a lot!) pissed off that resistance is trying to beat you to get fired up and get back to work. When I feel discouraged, my fighting spirit rises up in me and says, "No way! I'm not letting resistance win."
Use a map, aka, remember your Big Why. When you're lost and overwhelmed, remind yourself of your Big Why. Think about (and write down, for next time) WHY you're writing this book. What do you love about it? What are your deepest reasons for wanting to write this book? Reconnect with your passion and love and energy for the book. Pair that with the energy of anger to light a fire inside yourself.
Get help for the climb. Sometimes, you need help to reach the top of the summit. This could look like working with a coach, joining a writing group, or partnering up with a buddy. Someone who will be patient, supportive, kind, and compassionate without giving up on you for a single second. 
Make a push of progress on your book. A nifty trick for dealing with overwhelm is making a focused, concerted burst of progress on your story. Writing solidly, with focus, helps you regain your sense of identity and your confidence in yourself as a writer. This is what Tony Robbins calls "massive action." And though I generally advocate for regular daily writing as the primary antidote for resistance, sometimes we need to take powerful action to restore our confidence, energy, and momentum. You can do your own focused writing intensive or join mine to help you make that happen.
Remember your ultimate destination. Not only are you writing this book or screenplay right now, you're also working to fulfill your overall writing career goals. This project, right now, is part of the map you're using to get there. While this might sound like contradictory advice, holding the big view of what you're doing and why you're doing it can help with taking the small steps along the trail.
The reward?
Reaching that ultimate destination. Seeing the world you want to see, from the great heights you've earned, step by step.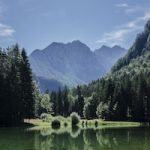 Join the next Deep Dive Writing Intensive.
Find out more and register here: https://calledtowrite.com/deep-dive
1. Featured image by AJ Yorio on Unsplash
2. Unsplash